Readers Question: what does AD stand for in economic terms?
AD = Aggregate Demand – the total planned expenditure in an economy.
Aggregate Demand is composed of various factors C, I, G, X – M
C= Consumer spending
I = Investment (Gross Fixed Capital Formation)
G= Government Spending
X= Exports
M= Imports
AD places a crucial role in determining the level of national output in an economy. Although Monetarists will argue it is AS which will determine the long run trend rate of growth.
Diagram of a shift in AD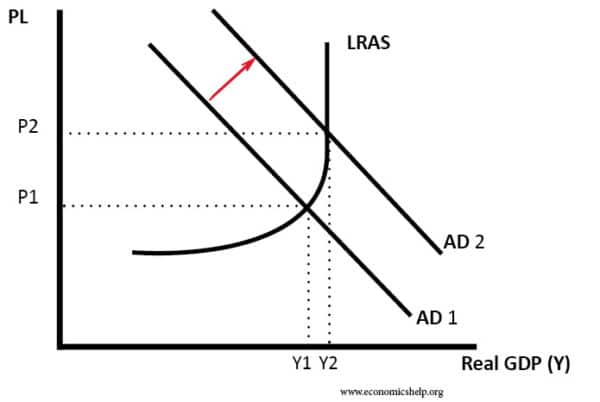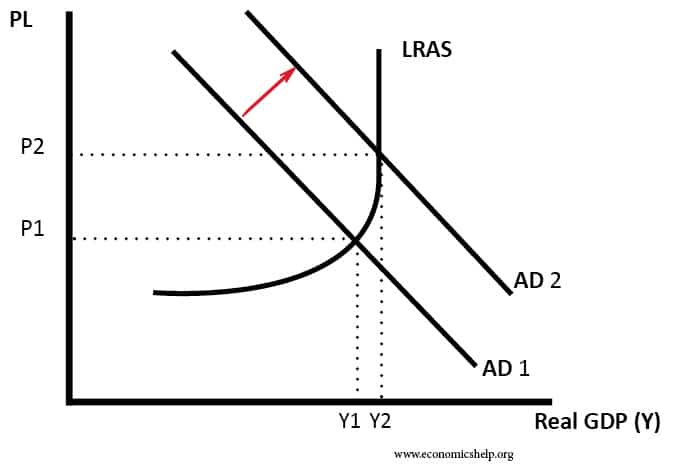 Movement along the AD curve
In this case, there is a shift in the SRAS (e.g. increase in oil price shifts SRAS to the left). This leads to a higher PL and lower real GDP.
Why does AD slope downwards?
At a lower price level, consumers are likely to have higher disposable income and therefore spend more. (Note this assumes that wages are constant and not falling with prices)
If there is a lower price level in the UK, UK goods will become relatively more competitive, leading to higher exports. Exports is a component of AD so AD will be higher.
At a lower price level, interest rates usually fall, and this causes higher aggregate demand.
Related