Readers Question: Is there an economic term for the phenomenon of ignoring (or turning a blind eye to) future risk, assuming that the current situation will prevail? I refer to the situation we currently see of both borrowers and lenders who are being caught by interest rate rises, having seemingly assumed that interest rates would stay low.
Definition Irrational exuberance
Irrational exuberance refers to a situation where economic agents develop confidence in the economy and financial markets that is misplaced. Consumers, bankers and firms become overly confident and expect asset prices to keep rising and growth to remain strong. Irrational exuberance is a factor behind the financial crisis.
In periods of irrational exuberance we tend to see:
Rapid asset price inflation, with prices increasing faster than incomes.
Increased willingness to take on risk by lenders and borrowers.
A tendency to ignore the potential for asset prices to fall or the economy to go into recession.
Sometimes we hear 'this time is different'. People justify permanently rising asset prices because this time something is different, e.g. shortage of housing means house prices can keep rising.
A growth in speculative or Ponzi lending. Where people borrow on the expectation rising asset prices will enable them to sell and make a profit, even though they can't meet actually debt repayments
Fall in savings ratio and rise in borrowing levels.
Irrational exuberance Robert Shiller
"Irrational exuberance" (2000) was a book by Robert Shiller who looked at reasons behind stock market booms, credit bubbles and housing bubbles of recent decades.
Examples of Irrational exuberance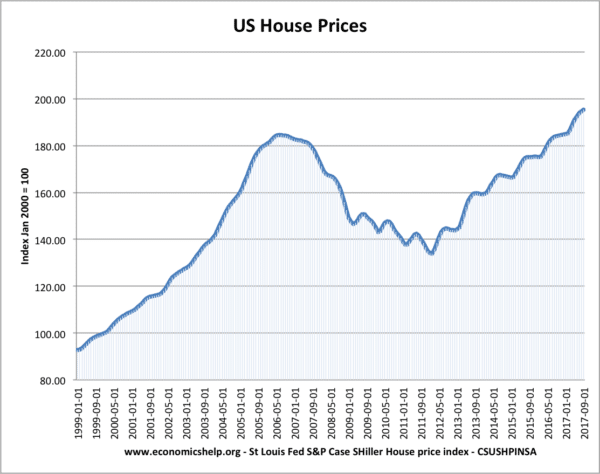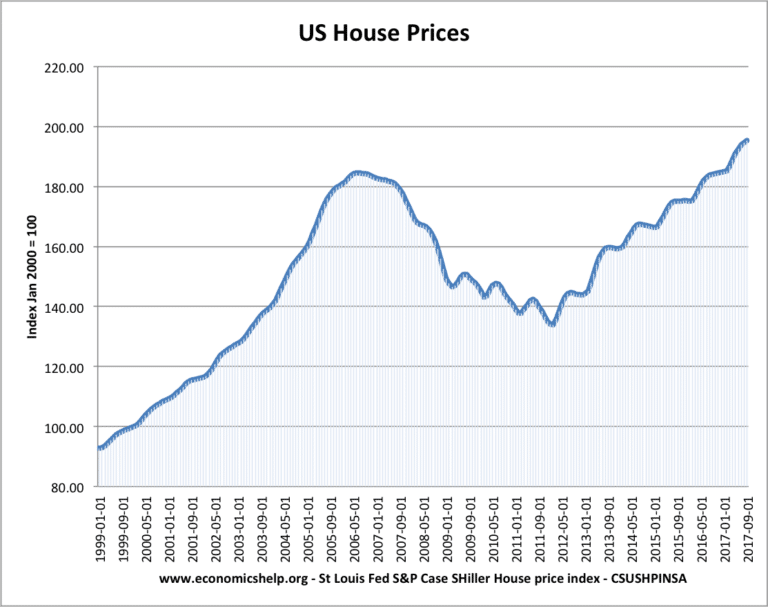 Financial mania .e.g. tulip bubble of 16th Century
Railway mania of the 1840s in Great Britain
The economic boom of the late 1980s in the UK
The period leading up to stock market crash in 1929.
Credit bubble and credit crisis of the 2000s.
US housing bubble 2000-2006
Irrational Exuberance and Financial Instability Hypothesis
The financial instability hypothesis states that in periods of economic stability, it encourages people to take greater risks and the seeming stability leads to financial instability. See: Financial instability hypothesis
Alan Greenspan and Irrational exuberance
Alan Greenspan helped to immortalise the phrase 'irrational exuberance' in a speech in 1996
"But how do we know when irrational exuberance has unduly escalated asset values, which then become subject to unexpected and prolonged contractions as they have in Japan over the past decade?" He added that "We as central bankers need not be concerned if a collapsing financial asset bubble does not threaten to impair the real economy, its production, jobs and price stability."
Source: Irrational exuberance
Related