In the post-war period, there has been a relative decline in the size of UK manufacturing. UK manufacturing used to account for over 50% of the size of the economy. Now, manufacturing accounts for around 12-15%. However, although there has been a degree of 'de-industrialisation' the UK still produces more in absolute terms than previously. We manufacturer a surprisingly wide range of goods from Nuclear reactors, military equipment, pharmaceutical products to electronics.
Top Products by Category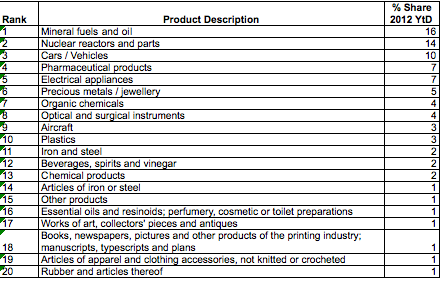 Car Industry
Many British car firms are no longer owned by British firms. But, in 2011, 1,343,810 cars were produced in the UK BBC.
Car production includes plants such as BMW Mini (Oxford), Nissan  (Nissan Sunderland's car factory produced 480,00 cars in 2011 – BBC)  Aston Martin, Rolls Royce, Bentley, Lotus, Morgan, Vauxhall
Note: many UK car firms may be owned by foreign companies.
Service Sector
As manufacturing has relatively declined, the service sector has become more prominent. The service sector plays a key role in export earnings. Sources of service sector exports include:
Financial services – insurance, banking with London the epicentre.
UK TV shows – e.g. Doctor Who, Top Gear (sold to 170 countries) X Factor, Sherlock Holmes. Export revenues of £1.4bn in 2011 (BBC)
Video games like Grand Theft Auto
Education
Running services such as air traffic control, train systems.
UK economy by sector share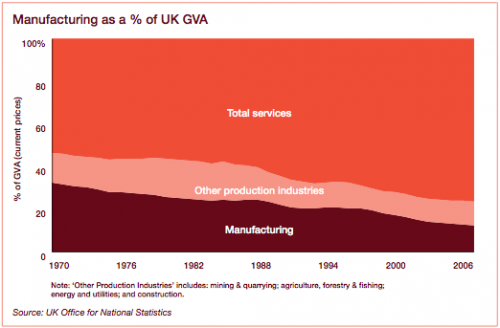 The manufacturing sector has declined from 35% of GDP in 1970 to 12% in 2008.
Other important products the UK produces
Gas turbines
Packaged medicaments
Computers
Hard liquor (e.g. Scottish Whisky)
Aircraft parts
Who Does UK Trade With?
The main source of UK's trade is with the US and the European Union. China and India are currently a low percentage of overall trade, but given the growth in their economy, this offers the chance for expansion in the future.
Top 10 UK Exports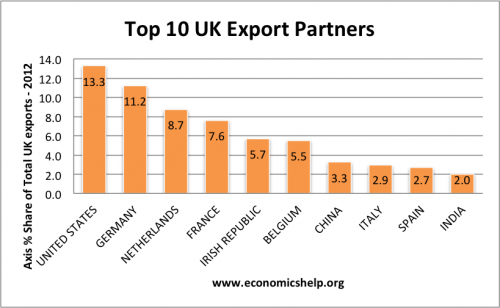 The bulk of UK exports are destined for the EU (around 60%)
Top 10 UK imports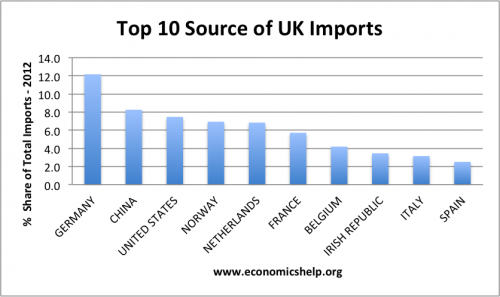 Source: UK Trade Info
UK industrial production in past 30 years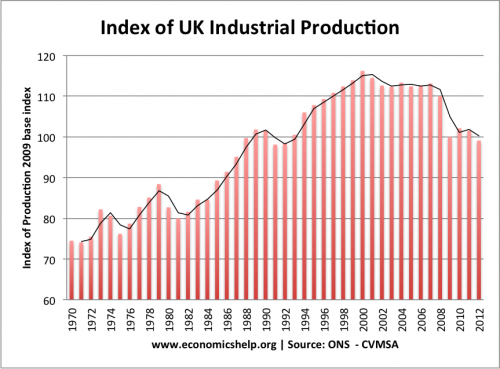 Industrial and manufacturing output fell significantly in the 2008-12 recession.
See more graphs at UK industrial and manufacturing output
What did the UK produce in the past?
The industrial revolution began in the UK. In the nineteenth century, the UK was a world leader in producing key materials associated with the industrial revolution.
Coal
Steel
Textiles
Steam engines
Ships
This mining and manufacturing sector has largely declined.