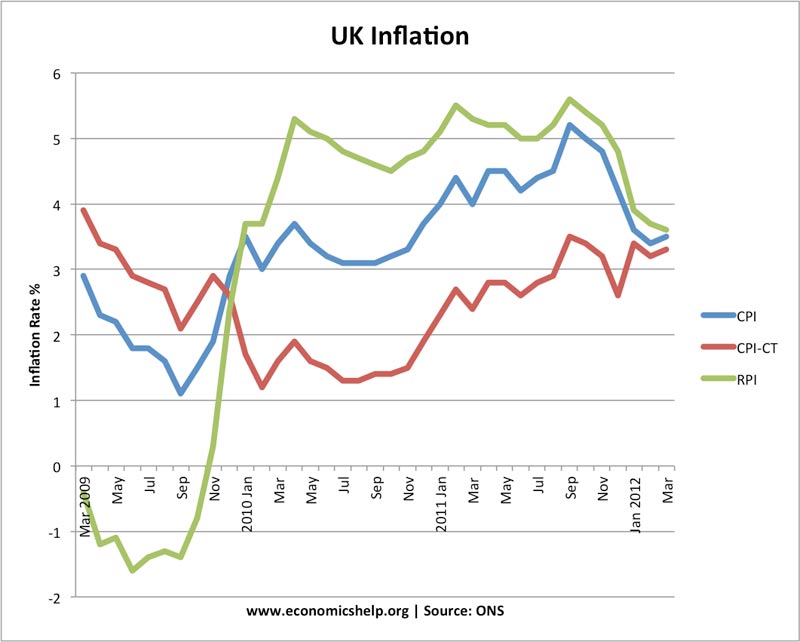 Inflation in the UK remains relatively high given the state of the economy. It continues to be above the Bank of England's target of 1-3%. However, the MPC will not be overly concerned about inflation. They are more worried about the weak prospects for economic growth and will be 'hoping' / predicting inflation will continue to slowly fall throughout 2012.
CPI consumer price index
RPI – includes mortgage interest payments and other housing costs not in CPI.
CPI-CT – excludes the effect of taxes (e.g. VAT)
The gap between CPI, CPI-CT and RPI has recently narrowed. This is due to expiration of tax increases and interest rates have been stable.
Why is Inflation still above target given spare capacity in the economy?
Commodity Prices. There is still some impact of past increases in oil prices and other commodities. Though the March CPI figures were helped by a fall in petrol prices. Yet, the price of petrol remains quite volatile, reaching another recent peak during April. This renewed price of petrol means CPI inflation may fall by less than Bank of England predicts throughout 2012.  Yet, with the global slowdown, oil prices are again forecast to fall over coming weeks.
The ONS state that the biggest upward factors in UK inflation are currently in food, clothing, recreation and culture.
Wage inflation
Due to weak economic growth and continued high unemployment, wage growth continues to remain weak. This means many  consumers are seeing a continued fall in real incomes. The Bank of England think this is a significant factor in depressing future inflation.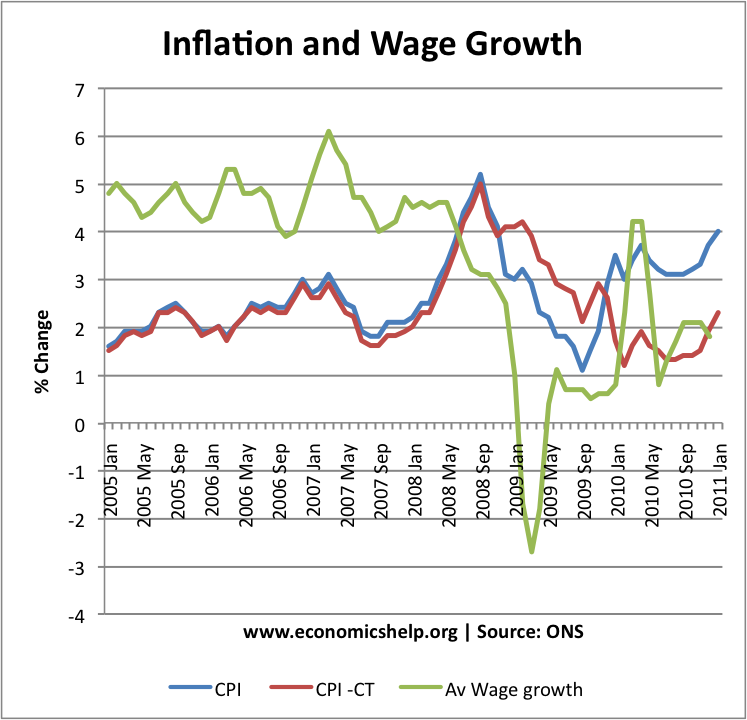 Spare Capacity
Given prolonged low growth, there is a substantial negative output gap. With unsold goods, this tends to depress prices. However, there is evidence that firms have less spare capacity than you might expect. In other words the potential output has fallen below the long run trend rate meaning there is less surplus capacity than you might expect.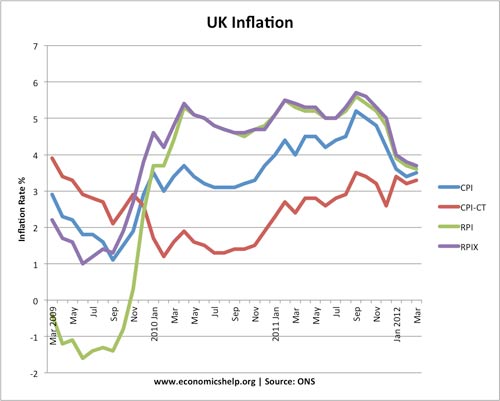 RPIX – same as RPI since interest rates have been constant.
Related
Latest inflation report at Bank of England
Inflation at ONS