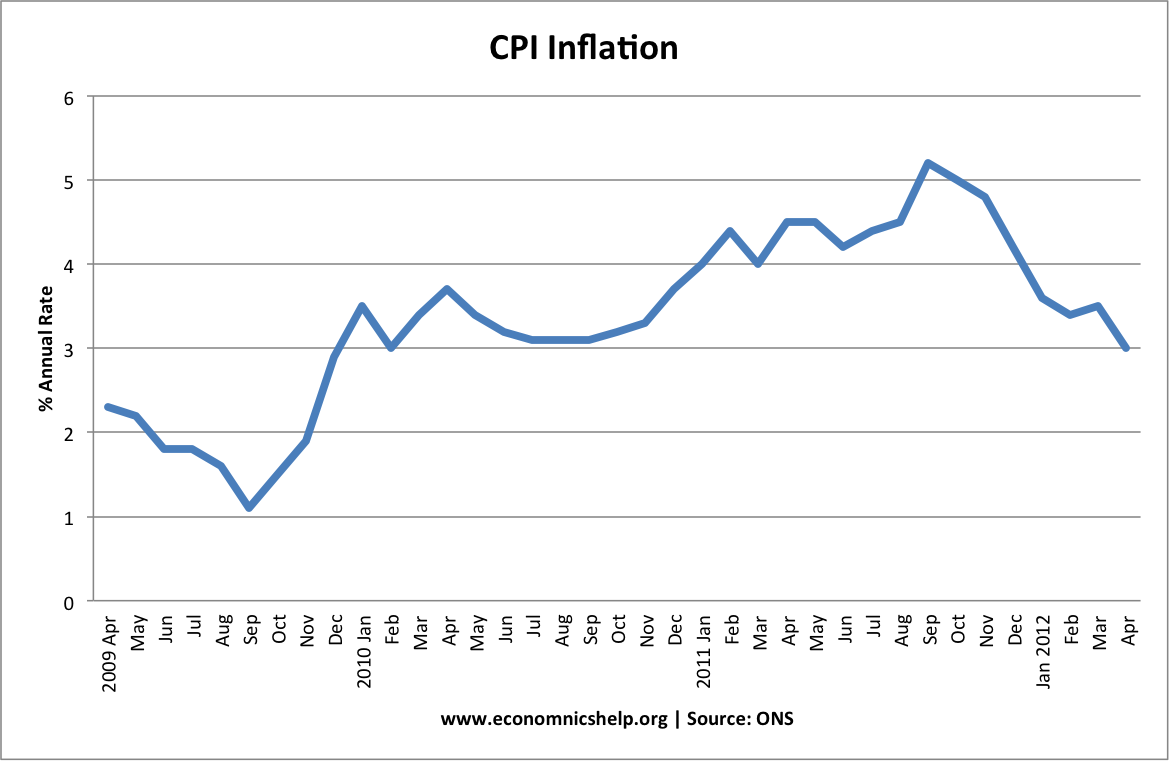 For the past several months, the governor of the Bank of England has had to write a letter to the Chancellor explaining why UK inflation has been above the government's target of 1-3%. April 2012 gives the first on target inflation figure (1-3%) since Dec 2009.
Core inflation which strips out energy and food has fallen from 2.5% to 2.1%
CPI-T = 2.8% (CPI – indirect taxes)
RPI = 3.5% (wider measure of inflation, including mortgage interest payments)
In the past year, the Governor of the Bank of England has been saying that inflation was above target, due to temporary cost-push factors, such as:
imported inflation following devaluation in 2009
Increase in taxes
Increase in commodity prices, e.g. oil
However, despite these temporary factors, core inflation remained low. Wage growth has been particularly depressed. In other words, CPI and RPI were given a misleading guide to underlying inflationary pressures.
Given the state of the economy and the slide back into recession, it is unsurprising that inflation has fallen so rapidly. The Bank's decision to tolerate inflation above target has been criticised by savers, who felt they were being ignored. It was also criticised by some economists who feared inflation of 4%  would allow inflationary expectations to set in leading to future inflation.
In this case, I feel the Bank of England made the right decision. The problem since 2008 has never been inflation, but the fact we are in the longest recession on record (longer thanfGreat depression). To religiously target inflation in the middle of a deep recession amidst rising unemployment would have been irresponsible.
Given the recent strength of the pound, the on-going Euro crisis and continued weakness in consumer spending and consumer confidence, inflation is likely to continue to fall. Stripping away taxes and volatile energy prices, the Bank could still face inflation slipping below the 1% target in the not too distant fuure..
What is the Importance of this Inflation Figure?
The ECB by contrast have pursued the wrong approach, e.g. when the EU experienced a smaller increase in cost-push inflation in 2011, they panicked and increased interest rates. But, due to religiously targeting inflation (and several other factors) the EU is returning to recession. The ECB should have more flexibility and tolerate higher inflation. Given the depth of crisis in southern Europe, there is a strong case for actually raising the ECB inflation rate, and make targeting higher growth and lower unemployment as the primary macro-objective.
Source: ONS
Related