Readers Question: I'm currently reading 'Crisis Economics' (by N.Roubini) at the moment and I don't get some stuff in the book. When it was talking about the current account balance, the book referred to it as a balance between national savings and national investment, but I don't quite understand this.
The Current account on the Balance of payments measures the balance of trade in goods and services.
A deficit implies we import more goods and services than we export.
To be more precise, the current account equals:
Trade in goods (visible balance)
Trade in services (Invisible Balance) e.g. insurance and services
Investment incomes e.g. dividends, interest and migrants remittances from abroad
Net transfers – e.g. International aid
The current account is essentially exports – imports (+net international investment balance)
It is also worth noting that if we have a current account deficit, in a floating exchange rate this must be balanced by a surplus on the financial/capital account.
Why do economists say that the current account also equals saving – investment?
Firstly, it is worth remembering that in a closed economy, we assume that saving = investment. (S=I). For a firm to invest, it needs savings to be able to finance the investment. See: Saving and investment
Economists have noted that if domestic saving are lower than domestic investment, we will see a current account deficit. Why?
Before we look at a more mathematical approach, it is helpful to think of a country which experienced a rapid fall in savings, but investment levels stay the same. A fall in savings means people are spending more (higher consumption) therefore, this would tend to suck in imports as we buy goods and services from abroad.
But, also, if domestic savings fall – how will the domestic investment be financed? The investment must be financed by capital inflows from abroad.
A country like Japan has had a glut of saving over investment. This saving has tended to go abroad looking for more profitable investment. Therefore, Japan has had a deficit on capital flows, and a corresponding surplus on the current account.
The US, by contrast, has often had a level of investment greater than savings. This has been financed by capital inflows and a current account deficit.
Savings Investment and Current Account
GNP (Gross National Product) = Gross Domestic Product (GDP 0r Y) + Net income from abroad (R)
GNP = Y+R
Net income from abroad can be negative if foreigners own more assets in the UK, – income from these assets will be sent abroad leading to negative net income from abroad.
Equilibrium in National Income –  GDP (Y) involves this formula
(C= consumption, I= Investment, G=government spending) (X-M) = net demand from abroad.)
The Current account (CA)  is also conventionally defined as (X-M) (value of exports – value of imports) + Net income from abroad. (R)
Therefore,
The difference between GNP and (C+G) is the level of savings.
As a result, the current account is also equal to the difference between savings and investment
From an accounting perspective, it doesn't make any difference whether we see the current account as
Net exports + net investment incomes
Savings – investment
Suppose domestic saving is insufficient to finance Domestic investment. How will the domestic investment be financed?
It will be financed by investment from abroad. These capital flows are a credit on the capital account and will be matched by a deficit on the current account.
Conversely, if a country has excess savings, these savings will go abroad to finance investment in other countries. This will give a negative balance on the capital account, and enable a current account surplus.
Example of relationship between savings, investment and current account in the US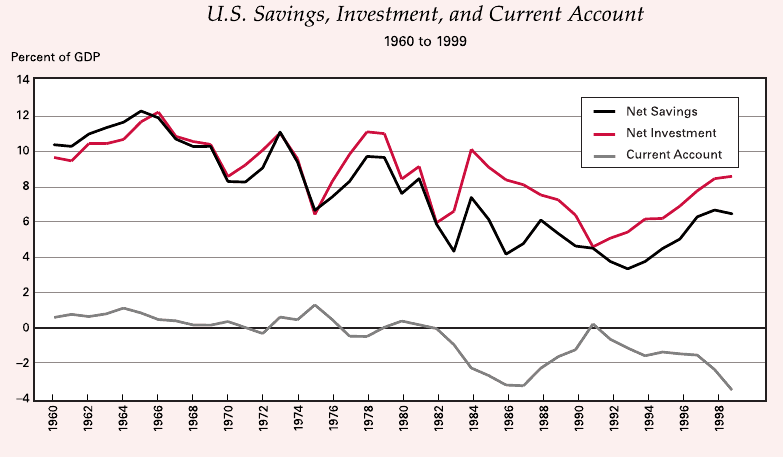 Related