Readers Question: When does velocity of money pick up and why will it? Clearly, the reason US inflation worriers have been wrong so far (NB). Is it confidence or policy?
The velocity of circulation / velocity of money refers to how frequently the money stock in an economy is used in a given period.
In the basic money supply equation, we have MV=PY
M= Money supply
V = Velocity of circulation
P = Price Level
Y = Income (in other versions, T also used for transactions)
If there is £1,000bn of money in the economy, and the total value of transactions in a year is £1,000bn, then the velocity of circulation is just 1.
If the total value of transactions rises to £3,000bn, this means the £1,000bn of money stock is being used three times in an economy. This gives a velocity of circulation of 3.
Quantitative easing and a fall in the velocity of circulation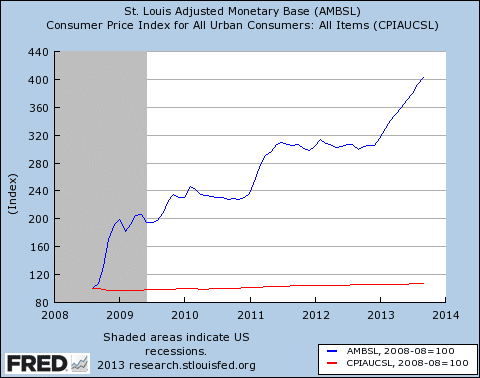 Blue line is the monetary base (one form of money supply). This surge in the monetary base has had no effect on inflation.
During the period of quantitative easing, we saw a big rise in the monetary base, but, inflation didn't increase. The reason for this is that people didn't want to spend this extra money. To be more precise, banks didn't want to lend this extra increase in the money supply, they just kept bigger bank reserves. Therefore, the money supply didn't filter through to the wider economy.
Velocity of circulation

The Green line shows a fall in the M1 velocity of circulation at the start of 2009 (wiki)
This is to be expected in a recession. Banks reduce lending, consumers reduce spending, and there is a rise in saving. Therefore, the velocity of circulation falls. This explains why a rise in the money supply doesn't cause inflation (which it might if the economy was at full capacity)

Why have forecasts of inflation in the US proved incorrect?
Many have been predicting that quantitative easing will cause inflation (for the past five years), because some basic economic models predict increased money supply leads to inflation. But, this model assumes a constant velocity of circulation. It ignores the fact that in a liquidity trap/recession, risk averse banks and consumers hold onto money, reduce spending and increase their saving. Therefore, in these circumstances, increasing the monetary base may have no effect on inflation. (though perhaps without Q.E. we could have experienced deflation)
Basically, the extra money supply has not led to excess demand because demand is still very weak. It must also be remembered the recession has been very deep, with a significant fall in output and rise in unemployment. This means the US economy has a significant spare capacity. This spare capacity reduces wage growth and reduces inflationary pressures. Given these factors, the increased money supply has not caused inflation.
When will the velocity of circulation pick up?
The velocity of circulation will pick up when:
1. Banks begin to increase their lending. If banks are more confident about economic prospects they will be willing to reduce their bank reserves and keep a lower reserve ratio. They will lend money to firms and consumers. This will mean that money will be used by firms and consumers rather than sitting in bank accounts. This will cause more economic activity and a greater circulation of money.
2. Increased spending. With economic recovery, consumers will be spending money more frequently. Rather than saving money, they will buy more goods, increasing velocity of circulation.
Will this cause inflation when the velocity of circulation picks up?
When banks increase lending and consumers increase spending, there will be a general increase in aggregate demand and this can cause inflationary pressures. It depends how quickly spending rises and how much spare capacity there is in the economy. If productive capacity is growing by 3% and total demand rises by 3%, then inflationary pressure will remain low. But, if there is a sudden surge in spending and velocity of circulation, then this can definitely cause inflation.
To a large extent it depends how the recovery is managed, if the Central Bank see a possible surge in inflationary pressures, then they can start to reverse the current loose monetary policy. The Central Bank can increase interest rates which will reduce lending and spending. There is no reason that an economic recovery has to lead to inflation, but it could cause inflation if demand increases too rapidly.
Related