Iceland's crisis was brutally severe. With a bloated current account deficit and bad debts, Iceland experienced a severe balance of payments crisis and banking losses. Iceland responded by:
Not guaranteeing all banking debt. Many large banks failed and were seized by the government

Allowing the currency to devalue by 50%.

Imposed capital controls to prevent the outflow of money.
This response is in contrast to countries like Spain and Ireland. In Ireland, the government implemented a very costly bank bailout – which in turn caused the Irish government to seek a bailout.
Yet, just five years after allowing banks to go under, Iceland is being rehabilitated into the international capital markets, with rating agencies upgrading Icelandic bonds from 'junk' status to BBB. (Guardian)
Iceland has succeeded in stabilising the macro economy, reducing the debt to GDP burden, and importantly has seen positive economic growth – helped by a substantial devaluation. The devaluation also helped to rebalance the economy and reduce the budget deficit.
The collapse of the bloated finance sector had another advantage. Iceland's traditional exporters have now found they could employ graduates at reasonable salaries. Previously, graduates had been poached by banks with seemingly inexhaustible supplies of money. This has helped rebalancing the economy to the more 'real' sector.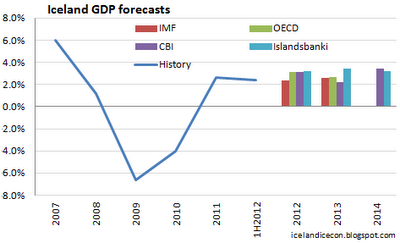 After experiencing 10 quarters of negative growth, the Icelandic economy has grown for the past two years at an average of 2.5%. Unemployment has fallen to 5% and confidence is returning.