The latest stats for UK net migration show an annual net migration of 260,000 (June 2014). This is roughly split between EU and non-EU migrants
142,000 from EU

44,000 of the EU are from the EU8 (most recent EU countries – Poland, Hungary, the Czech Republic, Slovenia, Slovakia, Estonia, Lithuania, and Latvia)

168,000 from non-EU (of which Commonwealth countries account for 62,000)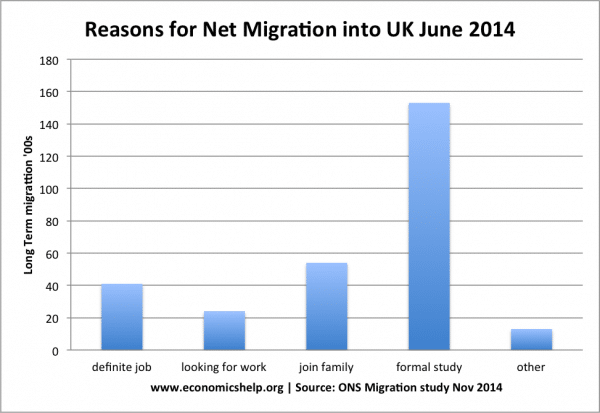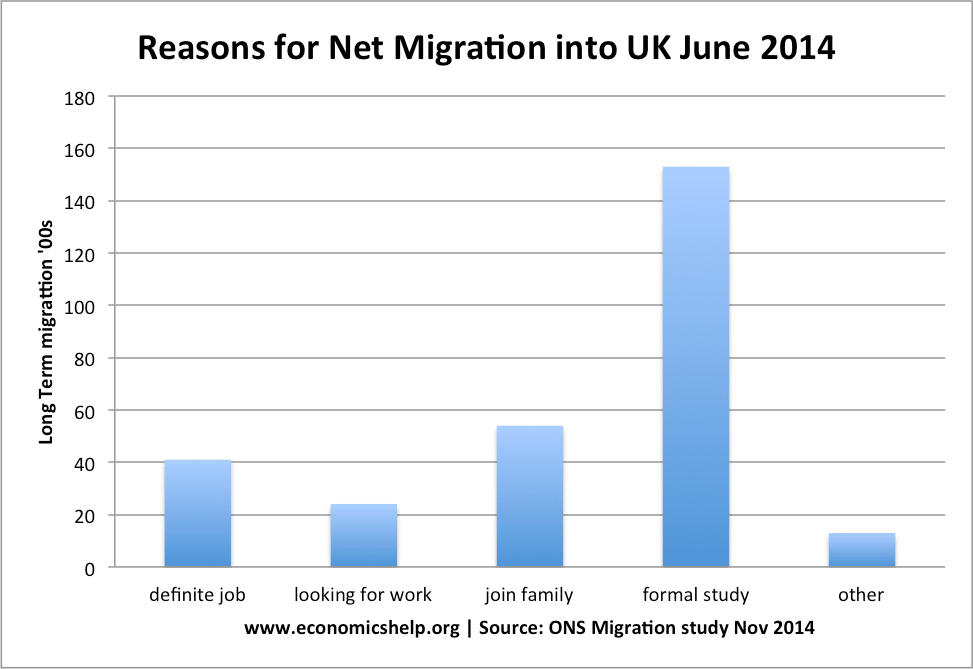 According to data by the ONS, the biggest reason for net migration into the UK is to pursue education studies. This accounts for 153,000 out of the net migration of 260,000 (Nov. 2014)
The second biggest reason is work related 61,000 – of which this is split into 41,000 definite job and 24,000 looking for work.
The third biggest reason is to join family already living in UK – 54,000
Other reasons 13,000 includes vague responses, such as 'coming back to live'
Asylum seekers
Asylum applications (excluding dependants) rose from 4,256 in 1987 to a peak of 84,130 in 2002, and then declined to 23,507 in 2013. (Migration observatory)
In 2012, asylum seekers accounted for 10% of net migration
In 2013, the rate of asylum seekers in the UK as 0.47 asylum applicants per 1000 people The European level is 0.91 per 1000.
Reasons for migration depend on country of origin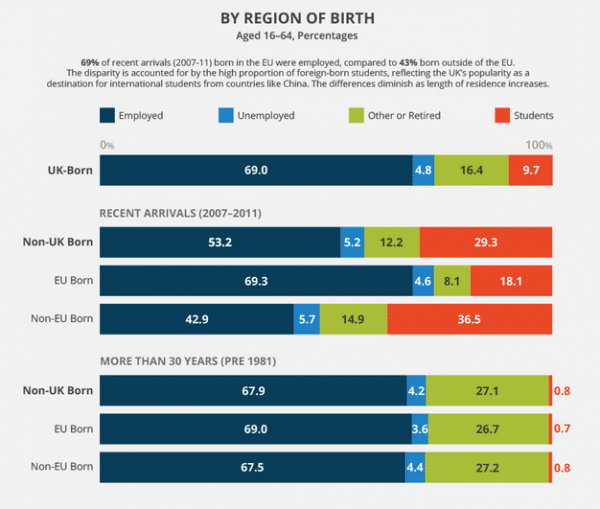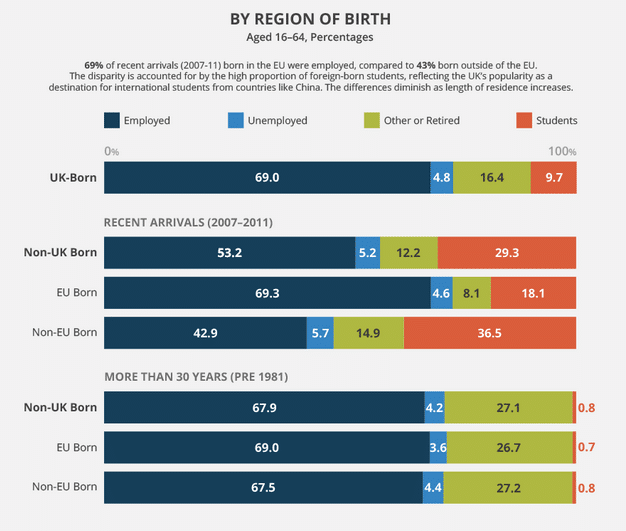 For recent arrivals (2007-11) study is one of main reasons for migration.
Employment and unemployment rates for UK citizens and EU migrants are very similar.
Employment status of migrants by country of Birth
There are big difference in the economic status of migrants, depending on country of birth. Chinese migrants are likely to be students (75.6%). This compares with Polish migrants where only 8.6% are students, but Polish migrants have the highest % in work (78.1%). Polish levels of employment are slightly higher than UK born residents.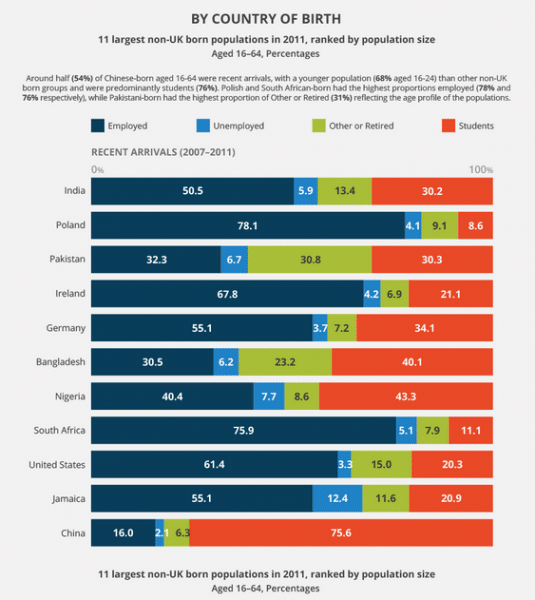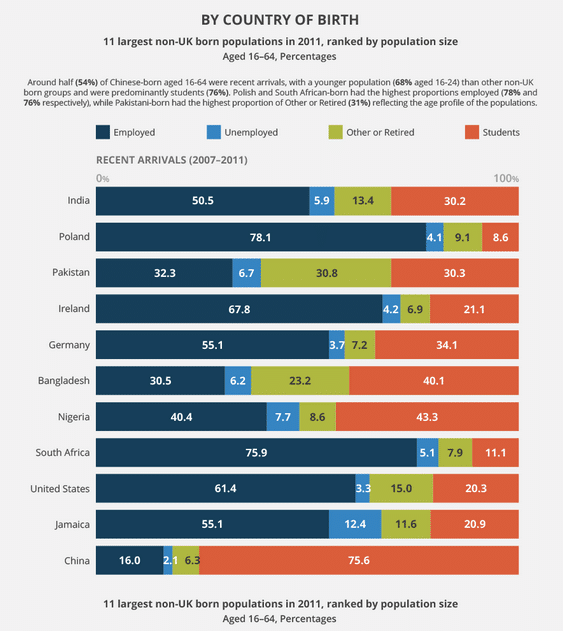 Migrants who have lived in UK for more than 30 years are more likely to be retired 'other' because of their different age profile.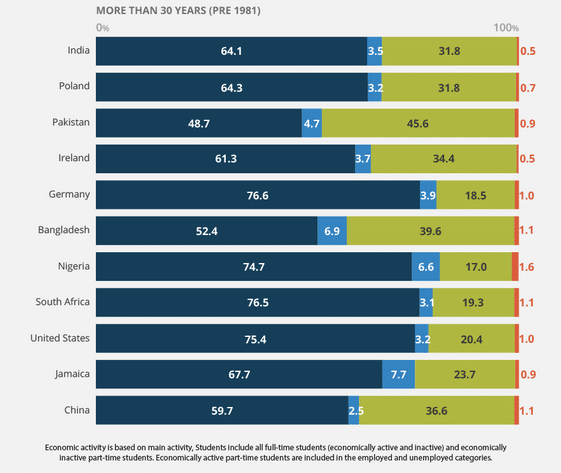 Additional facts of interest from ONS
Almost 9 in 10 non-UK born residents could speak English 'well' or 'very well'.
Recent arrivals were more likely to report some kind of qualification (89%) than migrants who have lived 30+ years (68%)
Net migration into the UK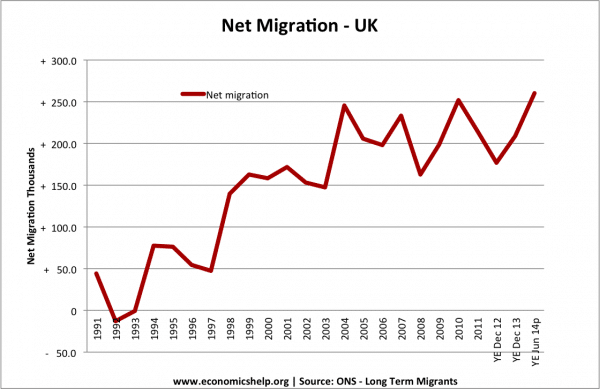 .
Related pages