An entrepreneur is an individual who sets up and grows a business. They combine different factors of production (such as – land, labour and capital) to try and create a new profitable business venture. Entrepreneurs are themselves an important 'factor of production' and an essential aspect of a functioning free market economy.
Importance of entrepreneurs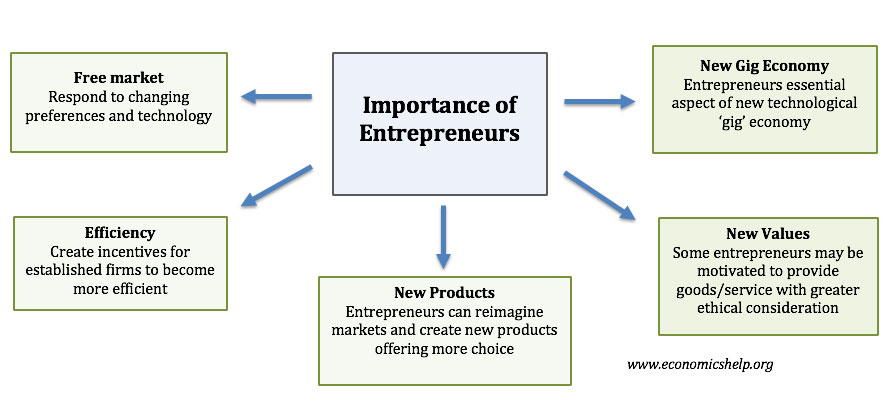 Free market evolution. Entrepreneurs are important in a free market because they help the market respond to changing prices and consumer preferences. For example, with the rise in the use of the internet, an entrepreneur may see the potential to set up a new home delivery service which uses an app for consumers to buy. Without entrepreneurs, product markets would become static and be slow to changes in new technology and trends
Efficiency improvements. A successful entrepreneur may take revenue from an established business. This can cause 'creative destruction' A phrase used to describe changes in the economy – which in the short-term could lead to firms going out of business and/or job losses. However, this potential for creative destruction also creates an incentive for an established business to adapt and increase their own efficiency. For example, in response to Uber taxi services, it created an incentive for established taxi-firms to develop their own apps.
Dynamic efficiency. Entrepreneurs can make radical changes and introduce new technologies which significantly move on an industry. For example, Henry Ford's novel use of assembly lines enabled a drastic cut in the average cost of producing a motor car. His efficiency savings forced other carmakers to follow suit.
New markets. Entrepreneurs can often 'redefine the rules' of an established industry. For example, in the 1990s, if you wanted to rent a room, you would scour newspaper ads and have to make a decision based on 40 words of text. However, the new service "Spareroom.co.uk" means you can easily scan through different possibilities and have an opportunity to get to know your potential flatmate before you move in. This has created a new market and new service that increases the efficiency of finding a compatible person to live with.
A similar new product is 'Room for help.' Where people can rent a room in return for providing a service such as cleaning/babysitting It was created by Ms Rolando after she came across an advert whilst looking for a room to rent. It is an example of how entrepreneurs often set up a business in response to their individual need.
New Gig economy. The new technological economy offers increased opportunities for entrepreneurs. Low start-up costs give entrepreneurs the potential to find new niche markets to develop. Many of the current large technological firms are relatively young and started as small start-ups – often in someone's room or garage.
New values. An entrepreneur is not just about price and profit. An entrepreneur may be motivated to enter an industry to offer a more ethical product or provide a service to a community. For example, Anita Roddick set up Body Shop at a time when many cosmetics were tested on animals. Her new set up eschewed animal testing. It proved a successful business strategy and it soon became the industry standard. In other situations, entrepreneurs may take a risk and provide a community service such as a volunteer led railway – offering steam trains for tourists and locals.
The entrepreneur can sell his new business for more than the costs of inputs or continued to grow and develop the business.
Motives of entrepreneurs
Profit. Profit is the biggest incentive. If the business is successful, the entrepreneur can pay themselves a large dividend or sell the product
Income. Unemployed may feel self-employment is the best opportunity to gain an income.
Overcome a particular need. Sometimes, entrepreneurs set up a business to deal with a missing market. For example,

Louis Braille

was completely blind – this led him to invent the braille system to communicate and read.
Non-financial motives. Mixed up with profit motive may be other objectives

Ethical stance. An entrepreneur may wish to do a different type of business, e.g. an organic farm which doesn't harm the environment.
Independence. An entrepreneur may also be motivated by non-financial factors, such as independence to work for themselves or to choose the hours and not have to listen to another boss.
Social entrepreneurship. Entrepreneurs don't always act alone. They may form partnerships with other entrepreneurs to create a stronger business or develop a social enterprise which aims at serving the community.
Related topics