The government is committed to reducing government spending as a % of GDP to 35% – one of the lowest percentages since the 1930s.
However, despite very strict government spending limits, (which see some departments spending cut by 30%), the government are still committed to a triple lock guarantee for pensioners.
The triple lock guarantee means that state pensions are linked to the highest out of – wages increases, inflation or 2.5 per cent. The past few years, have made the triple lock guarantee more expensive than expected. In a period of stagnant real wage growth, pensioners have done much better than the average worker.
The UK is now spending more on pensions (8.1%) than it does on health care 7.1% of GDP (2016). (state pension is 6% of GDP. Forecast to rise to 8.1% in 2050).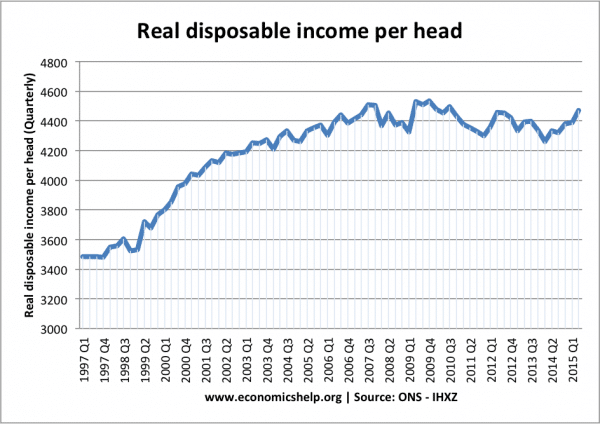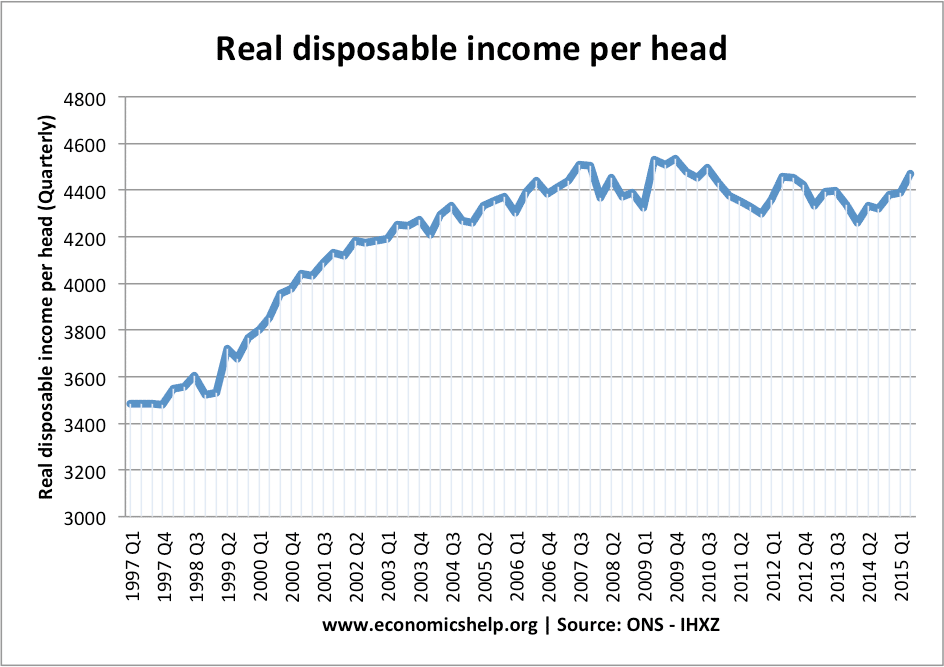 Whilst real disposable incomes have been stagnant in past 7-8 years, pensioners have done relatively better.
Cost of Pension spending
Growth in pension spending
In 2016, the UK will spend £110bn on old age pensions and a further £42.2bn on sickness and disability. (link)
Pension spending dwarves spending on unemployment
See growth in social security spending in UK
A quick glance at British papers might give you the impression Britain's financial problems are due to benefits for the unemployed or benefits for immigrants.
But, if you wanted to make a lazy caricature about UK government spending – it would be closer to the truth to say the government gives very large benefits to pensioners many of them who are rich and own their own house (with average prices now reaching £200,000)
Of course, within the age group 65+, there is a big range of income and wealth distribution. There are pensioners who rely on government benefits to avoid relative poverty. Pensioners may fairly state that if they have made contributions all their working life, they deserve a fair pension in retirement. Also, there are plans to raise the retirement age, in compensation for higher value of state pensions.
I will be a pensioner myself in the not too distant future.
But, in an age of 'austerity' the amount we are spending on state pensions is very generous.
How to divide up the share of national income
The question is – whether it is fair to ensure a triple lock guarantee to increase pensions when:
The housing crisis is exacerbating inter-generational inequality. Young people are unable to buy a house, and are seeing large percentage of disposable income going on renting costs. Many old people have much lower housing costs, especially if they were able to buy a house and pay off mortgage.
Real wages have stagnated in past 8 years, making gap between young and old increase.
Government is cutting spending on some departments by 30%
The percentage of retired people is forecast to grow very rapidly. Currently, 18% of people are aged 65 – this will jump to 26 per cent in 50 years.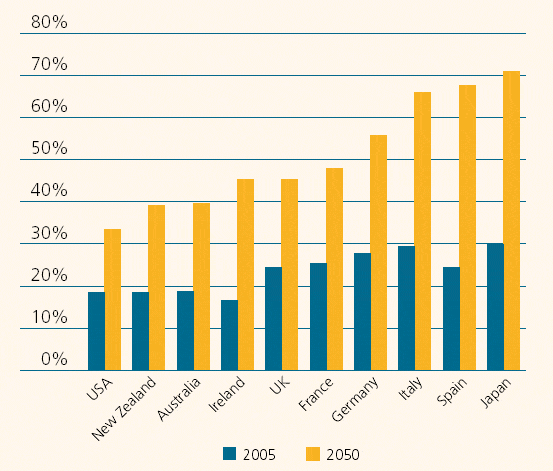 Source: Dept for work and Pensions
The growth in number of old people will also place a very great strain on the national health service. As people live longer, there are more treatments needed.
Politics
The problem is politics. It is very good politics to offer pensioners a triple lock guarantee. It would be a very brave politician who brakes the commitment and does a spending review. A double lock of wages or inflation may be palatable.
One lesson is that pensioners have a much higher voter turnout than young people.
Related