Austerity can mean different things. See: definition of austerity. But, for this article, I will take austerity to mean a squeeze on public sector spending. In real terms (adjusted for inflation), government spending is rising. However, despite an overall rise in government spending, some departments have seen spending fall or at least shrink as a percent of GDP.
To end austerity, there are three possibilities:
Increase taxes to enable more spending on public services
Allow higher levels of government borrowing.
(If wages took a bigger share of GDP compared to company profit this may feel like an end to austerity for many workers who have seen falls in real wages in past decade)
Why has there been austerity?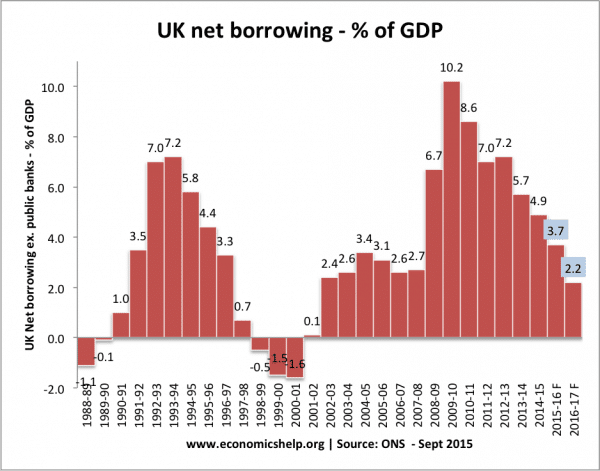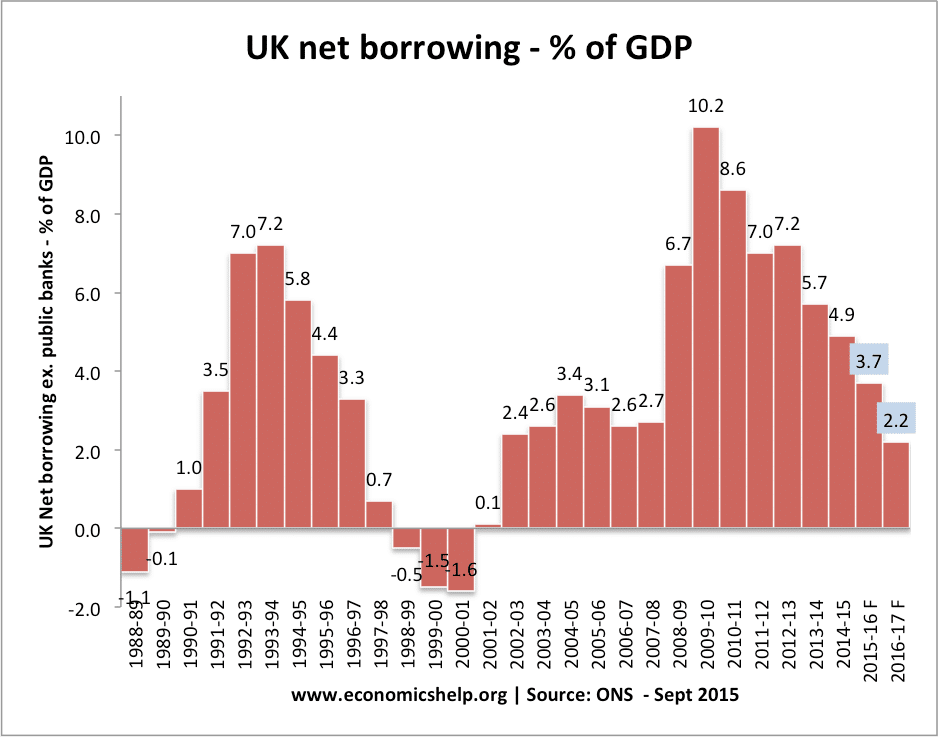 High budget deficit. In the aftermath of 2008/09 recession, government borrowing rose rapidly. Post 2010, the UK government was committed to reducing level of government borrowing and (at least under G.Osborne were aiming to reducing share of government spending as % of GDP)
Rise in spending commitments in certain areas. Despite the squeeze on spending, some departments have seen significant increases in real spending – for example, state pensions, housing benefit, health care. Therefore other departments, such as education, local government, public sector pay have had to bear a bigger brunt of spending cuts.
Pressure on services. Despite rises in real spending (e.g. health care) spending has grown slower demand for services. This is because the NHS has seen growing demands from ageing population, rising population, increased medical costs. Therefore, despite rise in real spending, services feel under pressure and waiting lists have grown. Hence the feeling of 'austerity' without technical 'cuts in real spending' Health care is an example of how services can feel over-crowded and under-funded – despite an actual increase in real spending.

UK pension spending double from around £80bn in 2004 to £160bn in 2019.
Pension spending. One issue which helps to understand the current situation is government spending on pensions. With an ageing population and the 'triple lock' guarantee, pension spending is rising at a rapid rate compared to other government departments. It means with overall government spending limited, non-pension spending is being squeezed at a higher rate.
Can we end austerity?
The government is projecting a fall in government spending to 38% of GDP (under Osborne the target was 35% of GDP). However, this is not a necessity, many Western European economies have government spending of 40-50% of GDP. Keeping government spending at 40% of GDP, though increasing the tax base, would enable more government spending.
Redistribution
In 2016, gross profit by UK companies – £2,993 bn
One aspect of ending austerity is simply redistributing resources in the economy. Since 2010, the share of GDP to education, health care and public sector pay has fallen. Company profit, income from renting property spending on pensions have increased. In this sense, we can afford to 'end austerity' – it is a matter of redistributing GDP. For example, higher corporation tax (reversing recent tax cuts) would enable more government tax revenue for spending on these sectors which have been squeezed.
Critics may argue higher corporation tax may encourage firms to find ways to avoid paying tax (e.g. setting up abroad). This is certainly a possibility but given the rise in corporate profit in recent years, increasing corporation tax is, at least one way, to try and redistribute national income.
When people say we can't afford to end austerity, what they really mean is they are unwilling to contemplate redistributing the economic pie.
Government Borrowing
Government borrowing is a tricky issue because the amount a government can borrow is not a simple science. For example, the idea the UK could quickly become Greece is misleading. Unlike Greece, the UK has ability to print its own currency and so is not subject to the same liquidity constraints. In 2011/12 austerity (cutting real public spending) arguably undermined economic recovery, and was in large part self-defeating. At least from a Keynesian perspective, the best way to reduce debt to GDP is promote economic growth (i.e 1950s/60s debt reduction), rather than risk depressing demand.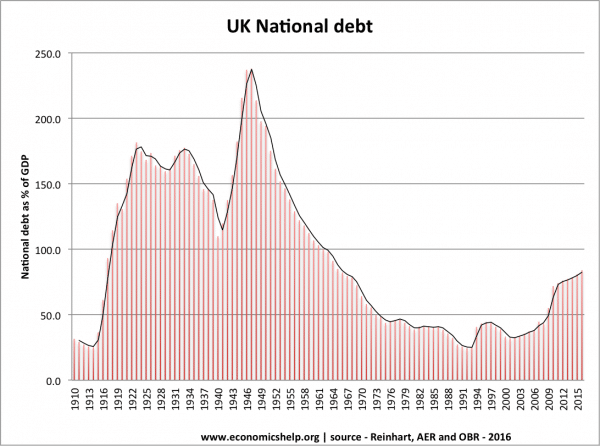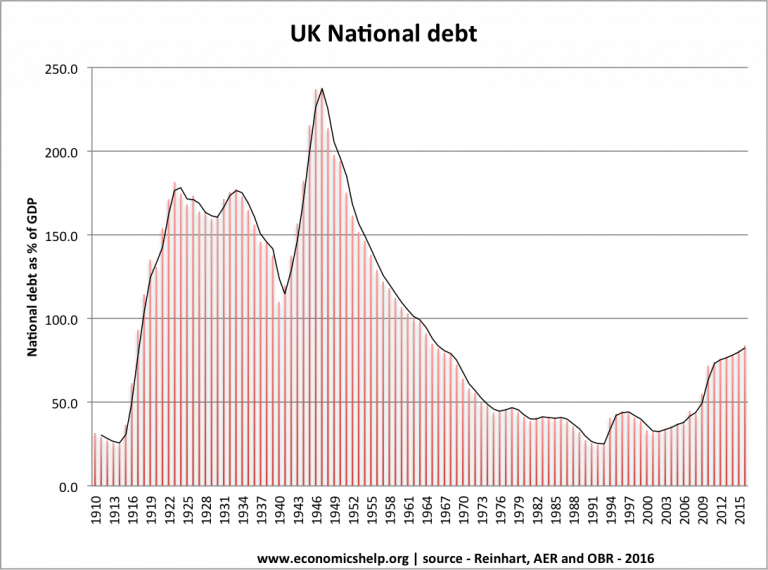 Post 1945, UK's debt situation was more serious, but the government set up NHS and Welfare State. Debt to GDP fell over next few decades because of strong economic growth rather than 'austerity'
The situation in 2017 is not as clear as 2010/11. Five years after a recession, in theory, we should be seeing strong economic growth and this would be the optimal time to reduce the budget deficit and reduce the debt to GDP ratio. However, economic growth remains sluggish – investment and now consumer spending are slowing down. With base rates still stuck close to zero, excessive tightening of fiscal policy would be a major drag on growth.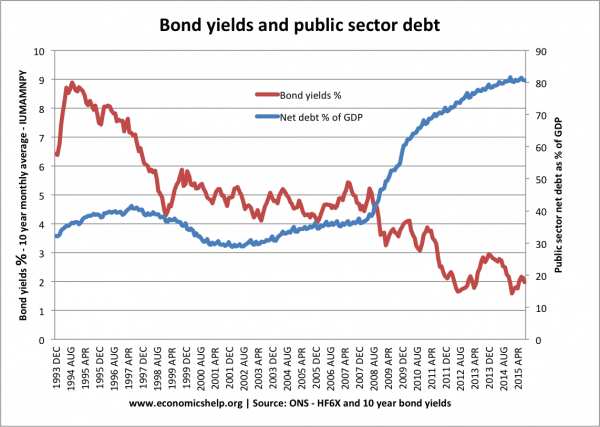 With very low borrowing costs indicating strong demand for buying government bonds, the best way to improve the debt to GDP situation is still to concentrate on returning to more normal rates of economic growth. It certainly makes sense to borrow to fund capital investment in the UK's infrastructure – especially given how long structural inflation is.
In economic terms there is probably more flexibility on debt than in political terms.
Overall
The UK can afford to increase share of GDP in sectors which have struggled in the past decade. Health, education and public sector pay have all seen a fall in the share of GDP. By contrast, rent, company profit have done relatively well.
There are limits to how much you can redistribute through tax and spending. But, there is no logic we have to keep reducing the share of government spending to GDP. Furthermore, easing austerity could help the macro-economic performance. Rising real wages would strengthen demand, and capital investment would help both productive capacity and the demand side. All this creates a positive multiplier effect of higher public spending.
Ending austerity is by no means a panacea for the UK economy which has serious challenges- i.e. weak manufacturing, Brexit uncertainty, and low productivity growth, but the country can afford to increase public sector pay and spending on health care – if the political will is there.
Related