Since coming to power, the Conservatives have made reducing the UK's record peace time deficit a high priority. It has been argued that drastic action was necessary to avoid the UK's debt becoming unmanageable. David Cameron argues without rapid spending cuts, the UK could be facing rising interest rates and the prospect of debt default, like we see in the Eurozone periphery. However, others are more critical of the pace of debt reduction. Critics argue that the pace of deficit reduction has been self-defeating causing a double-dip recession and paradoxically reducing the deficit less than expected. They argue, promoting economic growth should be the priority for medium term debt stabilisation.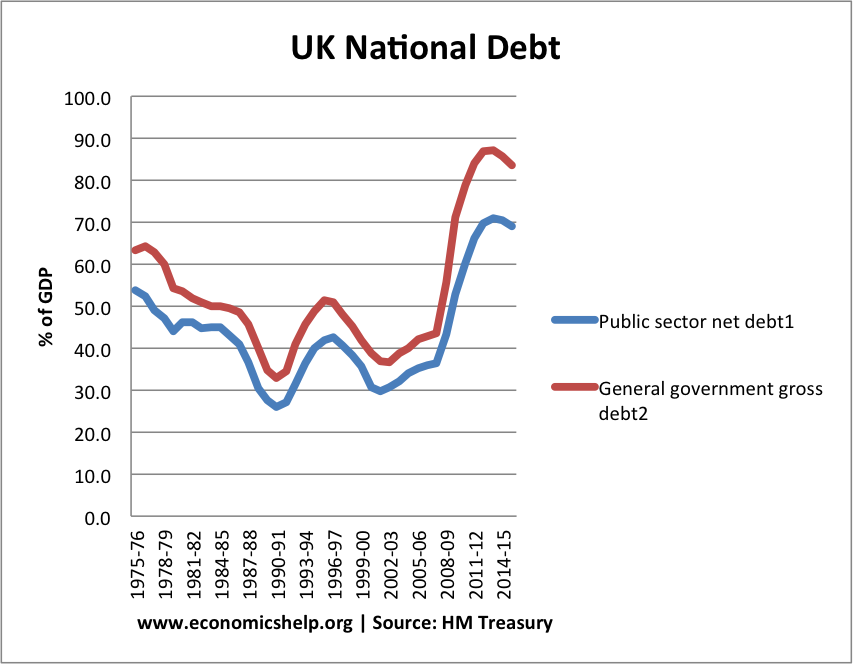 Reasons We Need to Reduce the Deficit Quickly
Markets are scrutinising debt levels more aggressively. Given problems in the Eurozone, markets are more sceptical about debt levels. Without a clear deficit reduction plan, the UK bond market may look very different, with higher interest rates as markets demand higher rates in compensation for increase risk. The government argue that the strict austerity cuts have reassured markets that the UK is a safe haven, leading to low interest rates on UK debt.
Keeping  Interest Rates Low. Arguably, reducing the deficit quickly has enabled interest rates on UK bonds to remain low. This keeps the cost of interest payments low (the interest rate cost has already increased to over £45bn. If interest rates were to rise, this could lead to a debt spiral and make reducing the core deficit more difficult.
Long-term prospects for debt are not good. Due to rising pension and health costs, the UK faces structural problems with its deficit. A report by the IMF suggests the UK will need "a fiscal adjustment strategy" over the next 18 years equivalent to 11.3pc of national output, or roughly £170bn, according to IMF estimates. This is bigger than the existing £123bn austerity ( 7.5pc of GDP) (Telegraph link)
The slowdown in economic growth has meant the UK has missed its deficit targets, showing there is still a long way to go in reducing government borrowing.
Monetary Stimulus. The UK is in a convenient position of being able to reduce the fiscal deficit but rely on some monetary stimulus. The Pound has devalued by 20% since the start of the crisis. Also, quantitative easing has provided some monetary stimulus to offset the spending cuts. This is one reason why austerity measures in the UK may be less painful than Eurozone countries on the periphery.
Why We Should Reduce the Deficit More Slowly
Spending Cuts lead to lower growth and lower tax receipts. The best way to reduce a budget deficit is through strong economic growth. However, the timing and pace of austerity measures have been a key factor in causing a double dip recession. This is why the budget deficit has fallen more slowly than expected. (with lower growth, the government receive lower income tax and pay more on unemployment benefits.)
The first priority should be to target reasonable levels of economic growth. This will enable a reduction in debt to GDP levels. The IMF predicts a fiscal consolidation of 1 percent of GDP reduces inflation-adjusted incomes by about 0.6 percent and raises the unemployment rate by almost 0.5 percentage point. However, this adverse impact of fiscal consolidation may be significantly worse in the absence of monetary stimulus.
Source: IMF: Painful Medicine
Research by the IMF show that austerity measures which are too quick can lead to significant reductions in GDP and higher unemployment.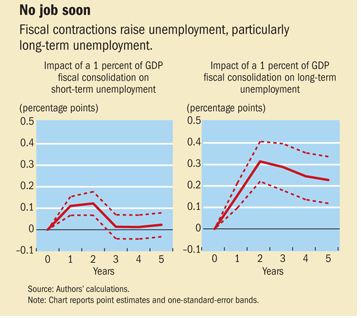 Source: IMF: Painful Medicine
Of particular concern is the impact of spending cuts on long-term unemployment. This research suggests that spending cuts can affect long-term unemployment for several years. This means that the impact of austerity could harm economic activity for several years.
Low UK Interest rates not due to austerity measures. The government claim that low bond yields in the UK are due to austerity measures, however austerity measures in Greece, Spain and Italy have all caused higher bond yields. This shows that spending cuts are not guaranteed to reassure markets. The UK has low interest rates because their investors currently prefer bonds to riskier assets like shares. Thus low interest rates is partly a reflection of poor prospects for UK growth. Also, Central Bank intervention has helped keep interest rates low in the UK.
Inequitable Nature of  Austerity Measures. Austerity measures tend to fall mainly on wages, rather than profits and rent. This is due to public sector spending cuts often reducing wages or making people unemployed. Spending cuts have seen a rise in economic hardship.
Conclusion
Austerity measures are definitely 'painful medicine'. The idea that spending cuts can be 'expansionary' is wishful thinking. Yet, countries like the UK face a very large deficit which requires a concrete plan to reduce it.
To some extent, austerity measures can be made more palatable:
Some spending cuts have less impact on economic growth – e.g. raising the retirement age, reducing welfare benefits (though there is another adverse impact on equity and fairness)
Delayed spending cuts which target structural spending, but have less impact in short term, can reassure markets without reducing short-term economic growth as much.
If there is monetary stimulus or exchange rate devaluation, there can be a boost to domestic demand which may be offset the spending cuts.

The IMF state that the UK has got the deficit reduction speed 'about right' for 2012. But, if the double-dip recession is prolonged, then there is a danger austerity measures may prove self-defeating. The IMF have been warning that the austerity measures in the Eurozone are failing to impact on economic growth.
To some extent, the damage is already done in the UK. The enthusiasm for spending cuts post election was a factor in contributing to the UK's double dip recession. The government could have been more careful in promoting growth. However, there is now less scope for delaying spending cuts than there was in 2010.
 Related