Readers Question: What are the advantages and disadvantages of inflation?
The Government have an inflation target of CPI 2%. This suggests they would rather have moderate inflation than no inflation at all.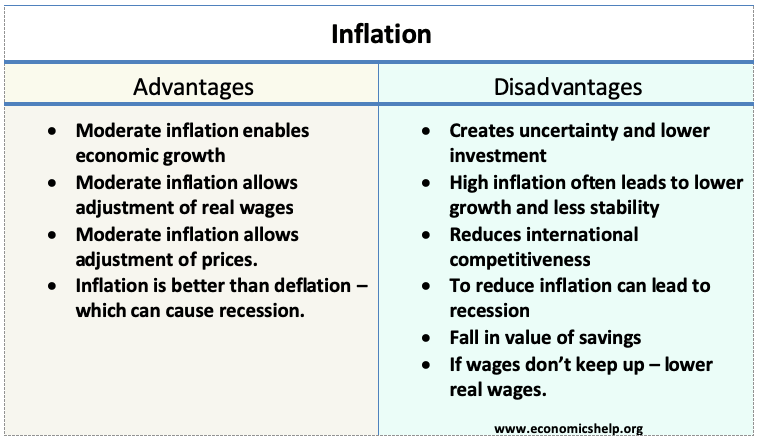 Advantages of Inflation
Deflation is potentially very damaging to the economy and can lead to lower consumer spending and lower growth. For example, when prices are falling, consumers are encouraged to delay purchasing in the hope prices will be cheaper in the future.
A moderate inflation rate reduces the real value of debt. If there is deflation, the real value of debt increases leading to a squeeze on disposable incomes.
Moderate rates of inflation allow prices to adjust and goods to attain their real price.
Moderate rates of wage inflation, allow relative wages to adjust. Nominal wages are sticky downwards. With moderate inflation, firms can freeze pay rises for less productive workers – to effectively give them a real pay cut.
Moderate rates of inflation are a sign of a healthy economy. With economic growth, we usually get a degree of inflation.
Disadvantages of Inflation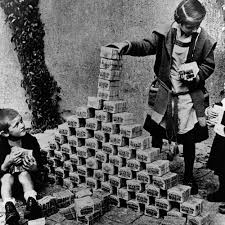 High inflation rates tend to cause uncertainty and confusion leading to less investment. It is argued that countries with persistently higher inflation, tend to have lower rates of investment and economic growth.
Higher inflation leads to lower international competitiveness, leading to fewer exports and a deterioration in the current account balance of payments. In a fixed exchange rate, e.g. the Euro – this is even more problematic as countries do not have the option of devaluation.
Menu costs. – This is the cost of changing price lists.
Inflation and stagnant wage growth lead to declining incomes.
Inflation can reduce the real value of savings, which might particularly affect old people who live on savings. However, it does depend on whether interest rates are higher than the inflation rate.
Inflation will reduce the real value of government bonds. Investors will demand higher bond yields to compensate; this will increase the cost of debt interest payments
Hyper-inflation can destroy an economy. If inflation gets out of hand, it can create a vicious cycle, where rising inflation, causes higher inflation expectations, which in turn pushes prices even higher. Hyper-inflation can wipe out the savings of the middle-classes, and redistribute wealth and income towards those with debt and assets and property.
Costs of reducing inflation. To restore price stability, Governments/Central Banks need to pursue deflationary fiscal/monetary policy. However, this leads to lower aggregate demand and often a recession. The cost of reducing inflation – is unemployment, at least in the short-term.
See more disadvantages of Inflation
What type of inflation?

When looking at the pros and cons of inflation, it is important to consider what type of inflation is occurring.
Cost-push inflation may only be temporary (e.g. due to raising taxes). Therefore, this is only a one-off problem and not as serious than deeply embedded inflation (e.g. due to wage inflation and high inflation expectations)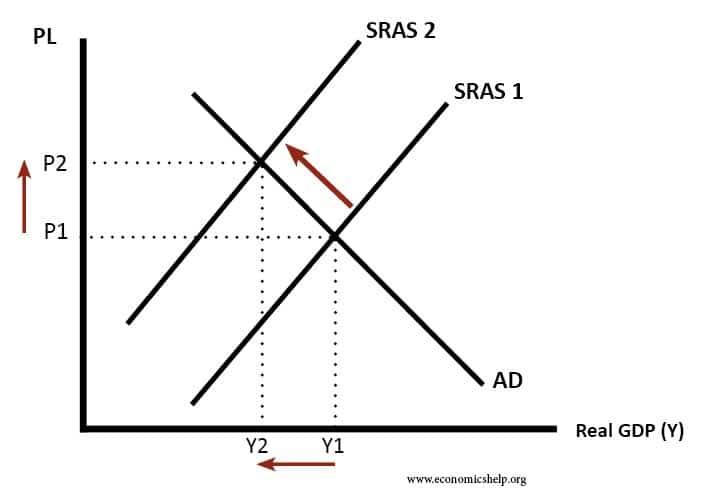 However, cost-push inflation does tend to reduce living standards (short-run aggregate supply is shifted left). Cost-push inflation is also difficult to deal with because a Central Bank can't both reduce inflation and increase economic growth at the same time.
Also, it depends on whether the inflation is anticipated or not. If inflation is much higher than anticipated then many people, especially savers are more likely to lose out.
Related