Readers Question Richard Drayton, the Professor of Imperial History at Kings College London, says in a letter to the London Review of Books: "What is clear is that in May 2010 the percentage of UK GDP which went to servicing debt, even after the impact of the 2008 crisis, was, at 2.5 per cent, at the lowest level enjoyed by any Conservative government since Lord Salisbury was at the Treasury in 1900." http://www.lrb.co.uk/v35/n02/letters
Yes, as far as I can tell. Historical debt interest payments are not so easy to find. But, In 2010-11, debt interest payments were £44bn  or 3% of GDP.
A few months ago I spent considerable time researching and found these statistics. The ONS said they don't produce statistics. HM Treasury publish data, but it's not easy to find – usually hidden away. More at Debt interest payments.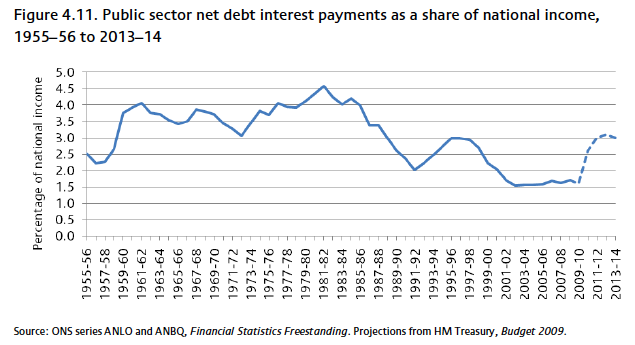 Source: A view of UK public spending
Historically, debt interest payments have been a higher % of GDP. In the late 1940s, debt interest payments reached close to 10% of GDP (though I can't find a source for this, yet)
Why is it cheap to service debt despite rise in government borrowing?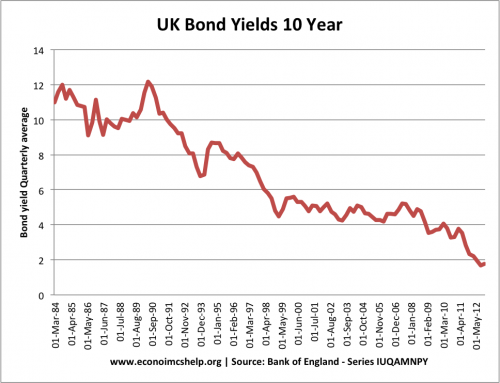 The recent recession has seen a record fall in bond yields.  Bond yields have fallen since start of crisis because
Increase in the savings ratio

Increase in demand for government bonds seen as a relatively safe investment – safe compared to more risky private sector investment.
Process of quantitative easing. Central bank creating money to purchase bonds has pushed up the price of bonds and yields lower.
UK bonds seen relatively safe compared to the government bonds of countries in the Eurozone.
See more: Reasons for falling bond yields
Another interesting statistic is the interest payments as a % of tax revenue, produced by the World Bank..
Interest Payments as % of Tax Revenue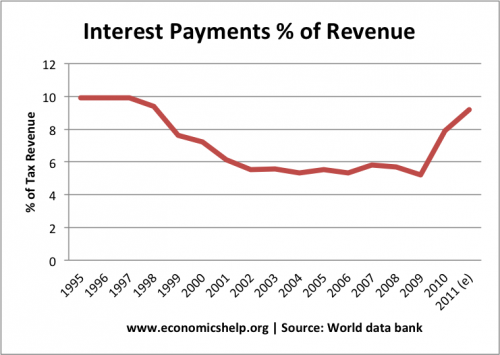 source: World bank
This has risen in 2010 and 2011 as tax revenues has stagnated and borrowing increased.
Why has the cost of servicing UK debt remained low?
https://www.economicshelp.org/blog/5604/economics/uk-bond-yields-explained/