Readers Question: What effect do interest rates (either a rise, fall or steadying) have on both monetary and real wages? I think I've got my head around it, but I'm looking for a nicely explain summary (understanding that there are probably a million of contributing factors that can lead to a million outcomes!)
You are right, there is no direct link between interest rates and wages (either nominal or real), and there are thousands of possible combinations, which make it difficult to create simplistic answers. But, interest rates can have an impact on wages by affecting the rate of economic growth and inflation.
Interest rates and economic growth
Higher interest rates increase the cost of borrowing, so firms will cut back on investment and consumers will cut back on spending. This could lead to lower economic growth. With less demand and higher interest payments, firms may seek to cut wages (or increase wages at a slower rate)
Furthermore, if higher interest rates do have the desired effect of reducing the rate of economic growth, then as well as lower economic growth, we should get lower inflation. This will be another factor leading to lower nominal wage growth.
Fall in AD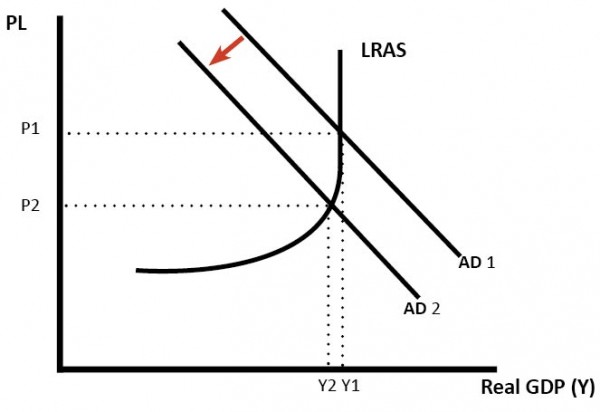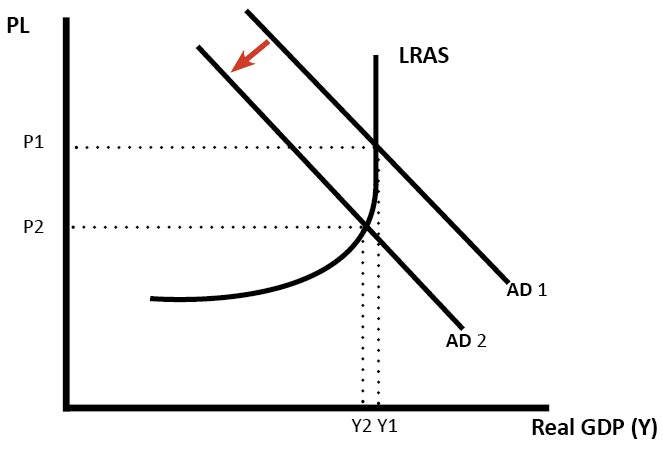 In this case, higher interest rates have reduced AD, leading to lower inflation and lower economic growth.
With lower inflation, we would expect to see lower nominal wages. But, also real wages (nominal – inflation) may be less affected.
Suppose inflation is running at 4% and nominal wage growth is running at 6%. (real wages = 2% growth)
Higher interest rates may reduce inflation to 2% and nominal wage growth falls to 4%. (but, real wage stay at 2%)