The German economy has been one of the world's strongest economies in the post-war period. There are many aspects of the German economy which deserve praise and emulation – not least strong productivity growth, a booming export sector and prolonged low inflationary growth. In the post-war period Germany has played an important role in promoting economic stability and prosperity within Europe.
But, in recent years, the German economy has seen several cracks appear and German economic thinking is now causing a major drag on Eurozone economic growth and prosperity.
The false goal of a balanced budget
An very important issue in German politics is the desirability of seeing a balanced budget (government spending = government tax revenue). Many German finance ministers have made balancing the budget their primary economic objective. In the UK and US, we see that austerity has a strong political appeal – but in Germany the appeal of 'responsibility' and avoiding debt is perhaps even greater. A German friend told me that there is a certain guilt attached to the idea of holding on to debt. (though this guilt is especially felt with government debt – mortgages and business loans are somehow different)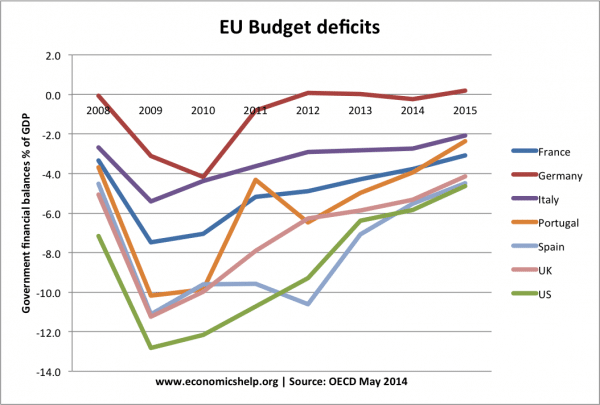 On the objective of reducing budget deficits Germany has been successful. It is also keen to enforce EU rules and the idea of encouraging a balanced budget for its struggling European neighbours.
Angela Merkel recently stated to the EU Parliament, that EU rules must be met:
"All, and I stress again all, member states must respect in full the rules of the strengthened stability and growth pact," she said. "These rules must be applied credibly to all member states — only then can the pact fulfill as a central anchor for stability and above all for confidence in the eurozone." (US Today)
Although, Merkel did not name France, the implication was that France must do more to meet the EU Stability and growth pact.
Why is a balanced budget a false goal?
1. Lack of investment
A successful business does not have its objective to borrow nothing. A successful business knows that it needs to invest to make progress and retain its prosperity. Years of cutting government spending has meant that Germany has cut back substantially on public sector investment. There are widespread reports that Germany has a lack of investment in roads, bridges and other forms of transport. There is a fear that important infrastructure, such as roads and bridges are reaching the end of their 70 year cycle, but there is no money to successfully replace them. The economic problem is growing congestion, time wasted and damage to the long term productive capacity of the economy. The Guardian notes
Its (German) investment rate in 2013 was the fourth lowest in the EU; only Austria, Spain and Portugal spent less. Fratzscher, who is head of the German Institute for Economic Research, calculates there is an "investment gap" of €80bn (£63bn).
The Economist reports that German public sector investment is —a paltry 1.6% of GDP— one of lowest in Europe and has fallen since 2009. Continue Reading →