I'm a big fan of Waterstones. It's a good bookshop. It's not Amazon; it even pays UK taxes. I like the atmosphere of bookshops and would be sad if they disappear from the High Street to be replaced by drones delivering books from anonymous warehouses somewhere off the M4. Even though Amazon is often cheaper, I do like to buy books from a proper bookshop like Waterstones because I enjoy browsing, and don't like being a complete free-rider (enjoying the atmosphere of a bookshop to then go and save a couple of pounds ordering online)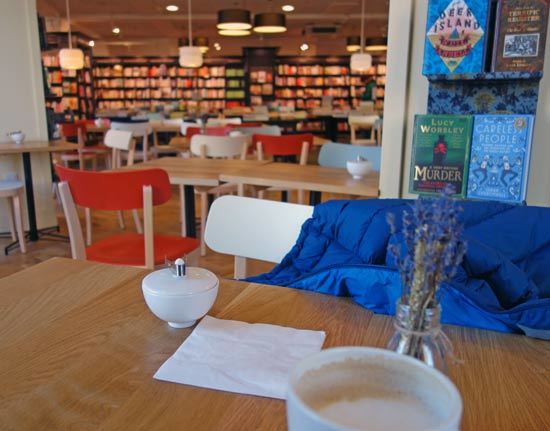 I also used to spend a lot of time in the Costa coffee shops in Waterstones. It's a good place to work and write some economics.
A while back, I noticed Waterstones were replacing Costa Coffee shops with their own brand of coffee shops. It makes sense to try it as a business idea. Selling coffee is, at least, one area free from the internet.
I don't consider myself a coffee connoisseur like some of my Italian friends. But, I know what I like and I can tell the difference between good and bad coffee. I was interested to see how they would do because Costa Coffee have really got it down to a fine art. I though it would be really hard to improve on the coffee shop experience of Costa Coffee.
How did Waterstones get on as a coffee shop?
The first thing is that the Waterstones staff are unfailing friendly. You can tell they mean well and are trying hard. But, they don't seem to have been on a barista course. When I ask for a 'dry' cappuccino they all look flummoxed. I try to explain it is a cappuccino with froth instead of milk. It makes it more like a macchiato. Maybe I'm not very good at explaining, but they always end up making it like a traditional cappuccino. I've been in two Waterstone cafes in Oxford and Bradford. It's interesting you get the same experience in both places. Also the coffee (especially first thing in morning, isn't as hot as I would like.) At a Costa coffee I once noticed a file with the menu for all possible drinks. Barista's have to learn these menus. I'm pretty sure Waterstones staff haven't been given a similar folder and expected to learn the menus.
Often you get the sense that they are really trained booksellers who have been asked to make coffee on the side. Interestingly the former Costa manager was offered the job at Waterstones, but she turned it down because she wanted to specialise only in coffee and not also be responsible for selling books. Continue Reading →