A selection of graphs and statistics on UK measures of unemployment. Also, looking at factors that explain UK unemployment and why unemployment has fallen in recent years.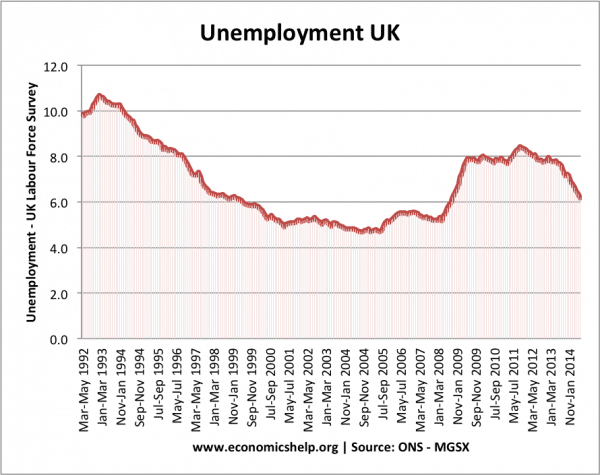 Current UK Unemployment rate
Unemployment rate of  6.2%, (July 2014) –  the lowest since late 2008. (page updated Sept 18th, 2014)
2.02 million – (ONS)  (a fall of 468,000 since 12 months ago – biggest fall since 1988)
(Scottish unemployment of 6%)
Average Eurozone unemployment – 11.5%
Recent Unemployment Trends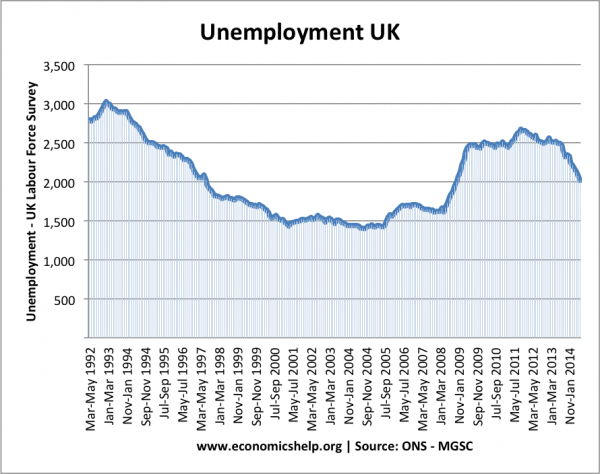 Raw data:  Labour market data  | ILO unemployment % rate at ONS
UK Employment Rate
73.0% of people aged from 16 to 64 were in work (May to July 2014) up from 71.6% for a year earlier.
There were 30.61 million people in work.
Participation Rate
22.1% per cent inactivity rate for those aged from 16 to 64. 8.95 million economically inactive people aged from 16 to 64. In activity means that people are either not working or not seeking employment (e.g. students, parents bringing up children, early retirement, long term sickness) See also: Participation rates