The biggest absolute emissions of CO2 come from China and the United States.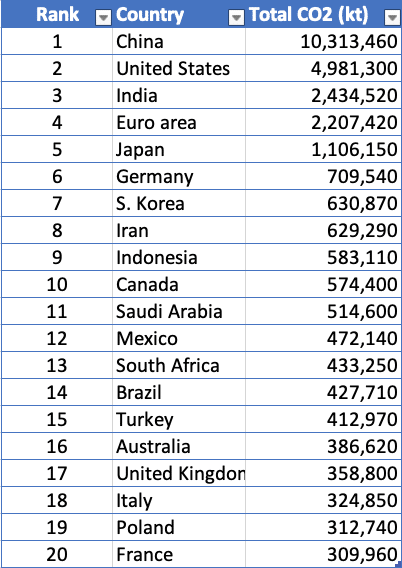 Source: World Bank CO2 emissions (kt)
In recent years, China has accelerated past the United States and is the biggest polluter in absolute terms, (which is unsurprising given China's population and fast economic growth. India is also catching up.)
Biggest CO2 Polluters per capita
This measures the level of CO2 per person. Thus China with the highest CO2 in absolute terms is ranked considerably lower down.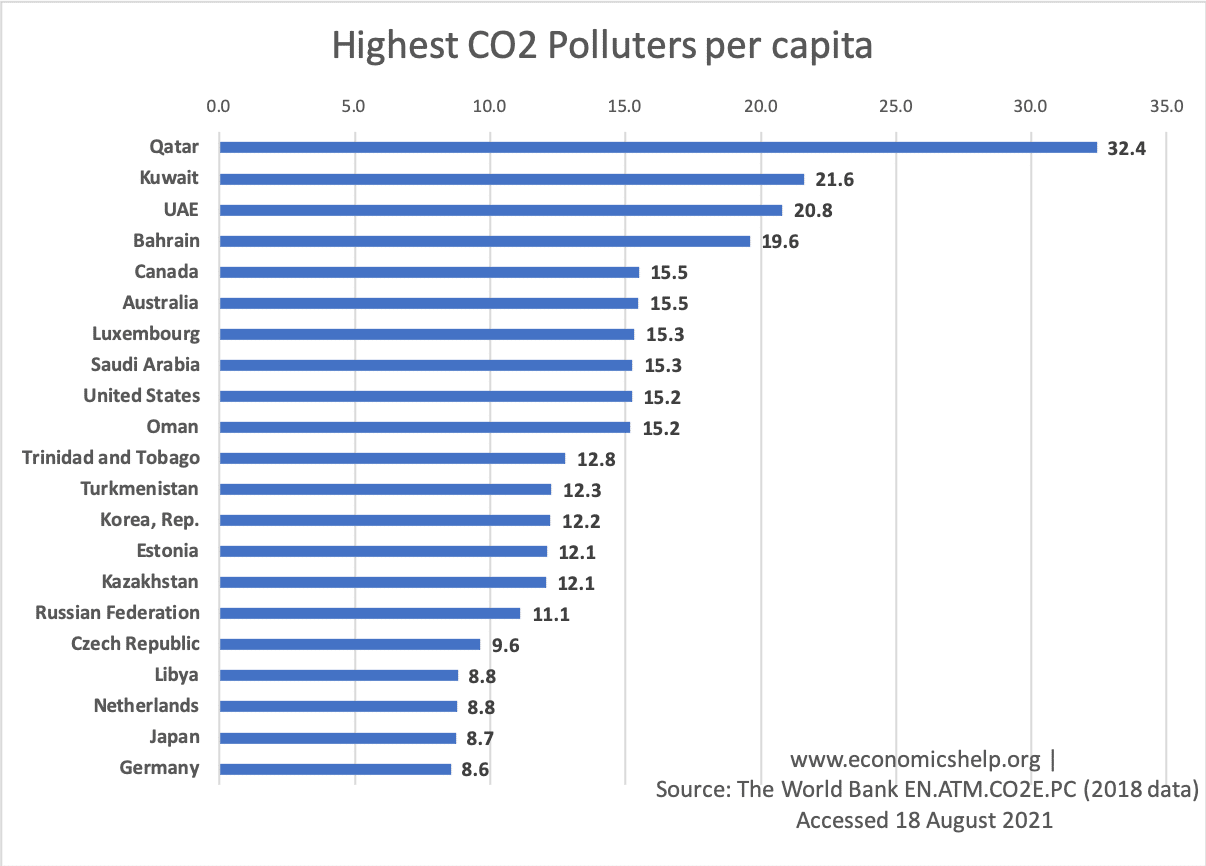 The highest CO2 Polluters per capita are dominated by oil producing countries who refine oil and emit CO2 in the oil extraction and refining process.
Consumption-based emissions (trade adjusted)
It is worth bearing in mind that this data shows CO2 production in a country. CO2 by consumption would look different. For example, the UK is a net importer of CO2. In recent decades, the UK has reduced CO2 emissions per capita because manufacturing has declined and we import goods from other countries. In other words, CO2 emissions are produced elsewhere but the UK enjoy the goods.
US is a net importer of CO2. Adjusted for consumption, the US total would be 7.7% higher.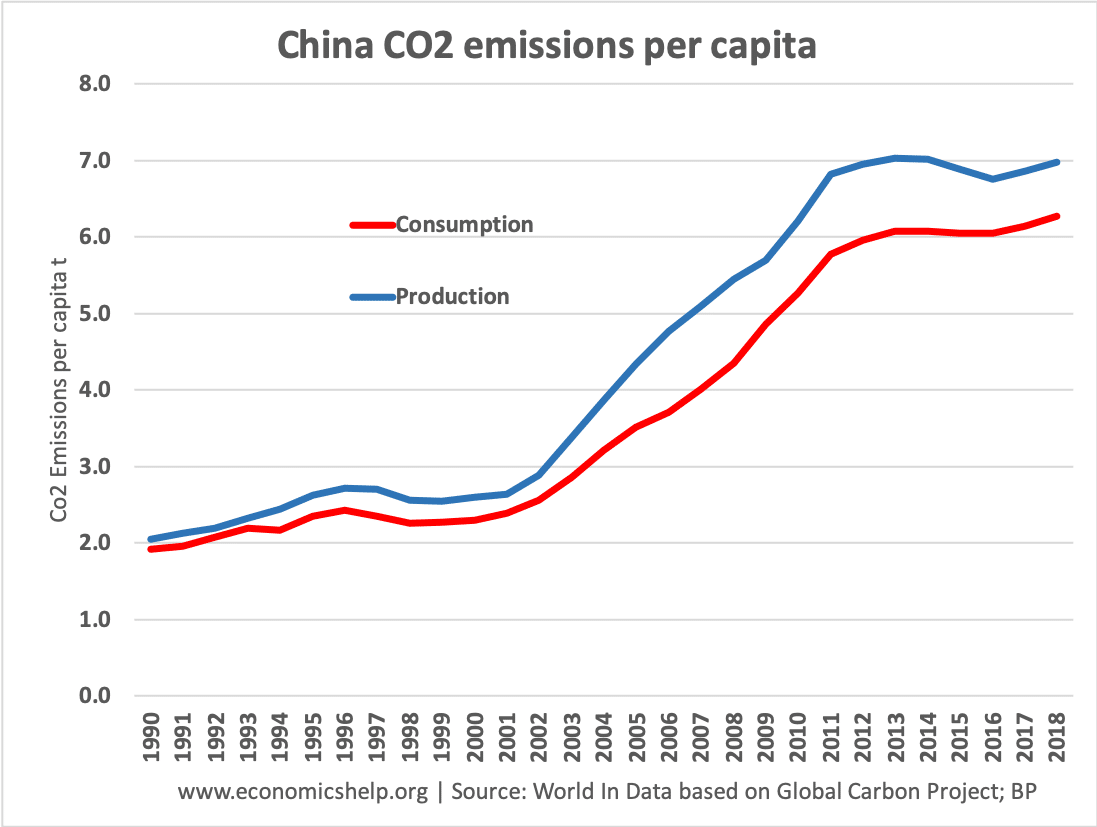 Source: Our World in Data
China is a net exporter of CO2. Adjusted for consumption, the Chinese total would be 14% lower.
Selected countries CO2 emissions per capita
Source: World Bank
What explains variation in CO2 emissions per capita?
Levels of GDP. Countries with higher real incomes can afford to use more petrol and industrial production which causes pollution. By comparison, the lowest income countries have very limited industrial production and consumption of oil.
Focus of the economy. Economies based on oil  (like Qatar, Russia have the highest levels of CO2 per capita. Qatar has a rate of 45.4 (off the chart) – small population but production based on oil exploration and oil refining. Some richer countries have reduced CO2 emissions, but are contributing to CO2 because they are importing goods from other countries, where the CO2 is produced.
Transport policy. Levels of petrol tax and balance of transport modes can influence CO2 emissions. Countries with the highest levels of car use lead to more CO2 emissions. (See: relative petrol prices around the world, e.g. compare US with western Europe)
Policies to reduce CO2 emissions. To meet global warming targets countries have adopted policies, such as carbon tax and regulation to reduce pollution.
Modes of Power generation. The burning of fossil fuels (e.g. coal-powered electricity stations) is one of biggest causes of CO2 emissions. Countries which gain energy from renewables have lower CO2 emissions per capita.
Changes in CO2 emissions per capita
China's CO2 emissions per capita have more than tripled in past 15 years.
Why the UK has a decline in CO2 emissions?
The UK has reduced its level of CO2 emissions due to
Significant decline in number of coal-burning power stations.
Growth in renewable energy (wind/solar)
Decline in manufacturing – push CO2 emissions offshore.
More fuel efficient engines.
Greater population density tends to reduce per capita emissions as greater population density encourages more efficient living (more public transport/cycling)
There was a temporary fall in CO2 emissions in the middle of 2020 due to the Covid induced economic shutdown, however these falls tend to be only temporary. For example, in the financial crisis of 2008, economic downturn led to lower Co2 Emissions, however, this was a minor blip.
Source: World Bank
Lowest CO2 emissions per Capita
By comparison, some of the poorest countries produce practically zero CO2 emissions per capita.
---
Readers Question: Why don't countries use the carbon tax?
Taxes are generally politically unpopular. A tax on carbon emissions will affect the living costs of many people. This can make the government reluctant to impose the tax.
There is also the free rider problem. A small country may think – what is the point in introducing carbon tax when their CO2 emissions are dwarfed by other countries like China and the US? Especially, when these bigger countries don't seem inclined to do too much about the issue.
There are also differing opinions about the potential cost of CO2 emissions to the environment. In the US, there is a strong lobby which argues global warming is not scientifically proven. Therefore, there is a resistance to impeded CO2 emissions.
Another factor is that there are significant vested interests in the oil industry / other industries which pollute. They fear CO2 tax will reduce their profitability so they are willing to fight against moves to introduce taxes.
Another argument used is that a Carbon tax will harm jobs.
Co2 Emissions and global warming
CO2 emissions are widely considered to play a significant role in contributing to global warming.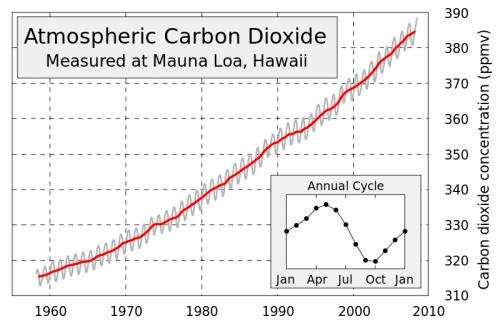 Over the past few decades, the level of CO2 in the atmosphere have continued to rise. Scientists say this increase in CO2 has contributed to global warming.
Global warming has potentially damaging economic consequences with increased weather variability and loss of biodiversity.
At Kyoto, countries made commitments to target lower CO2 emissions, but these targets have rarely been met. At negotiations, countries collectively agreed to reduce their greenhouse gas emissions (which includes Carbon dioxide) by 5.2% on average for the period 2008-2012.
Change in CO2 Emissions per Capita in the past two decades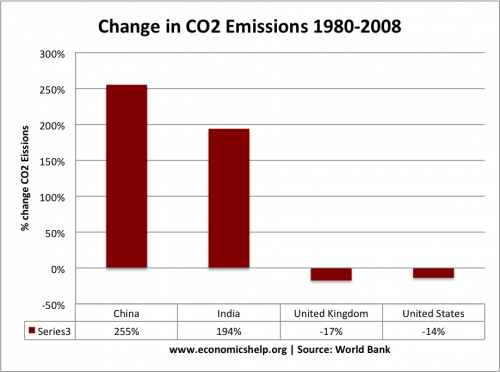 The biggest challenge to limit carbon dioxide is faced by developing economies with rapid economic growth. Due to rapid growth, there is a tendency to see quicker increases in CO2 use, e.g. as people can afford cars and production increases.
Related