Reader Question: What Are The Macro-Economic Problems Faced In UK In 2015? And What Are The Reasons And Causes?
See updated post: Problems facing UK economy post Brexit.
Only time for a quick answer. Off the top of my head 5 problems for UK economy
Low economic growth
Low productivity growth
Budget deficit / perceived need to cut deficit.
Low wage growth
Unemployment
1. Low economic growth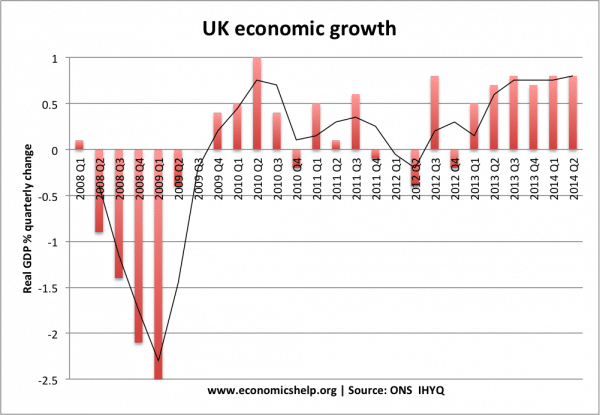 This might not be most obvious because UK has experienced a recovery in the past two years. But, the economic recovery is still weak, with concerns weak growth in Europe and further austerity could cut forthcoming growth. The economy still has a big loss of output since the great recession, that we have not recovered from.
2. Low productivity growth

Productivity is output per worker. Productivity growth in the UK has been very weak. This is a concern because it suggests future long run economic growth will be poor with little scope for an increase in real wages.
Productivity affects growth of long run aggregate supply. If productivity is very low then we will have a lower long run trend rate of economic growth. Part of the reason for low productivity growth is firms keeping wages low, lack of investment and slowing down of new technological improvements.
3. Budget Deficit / perceived need to cut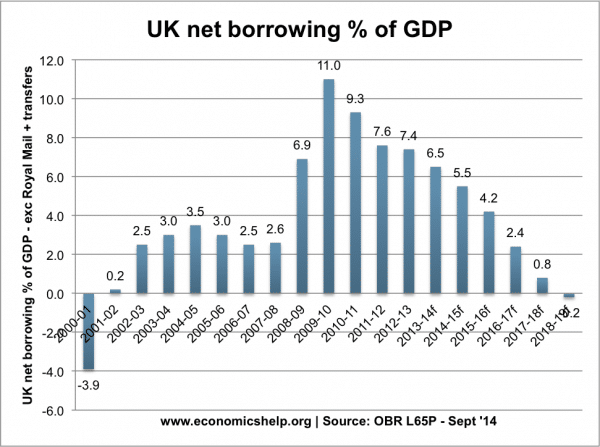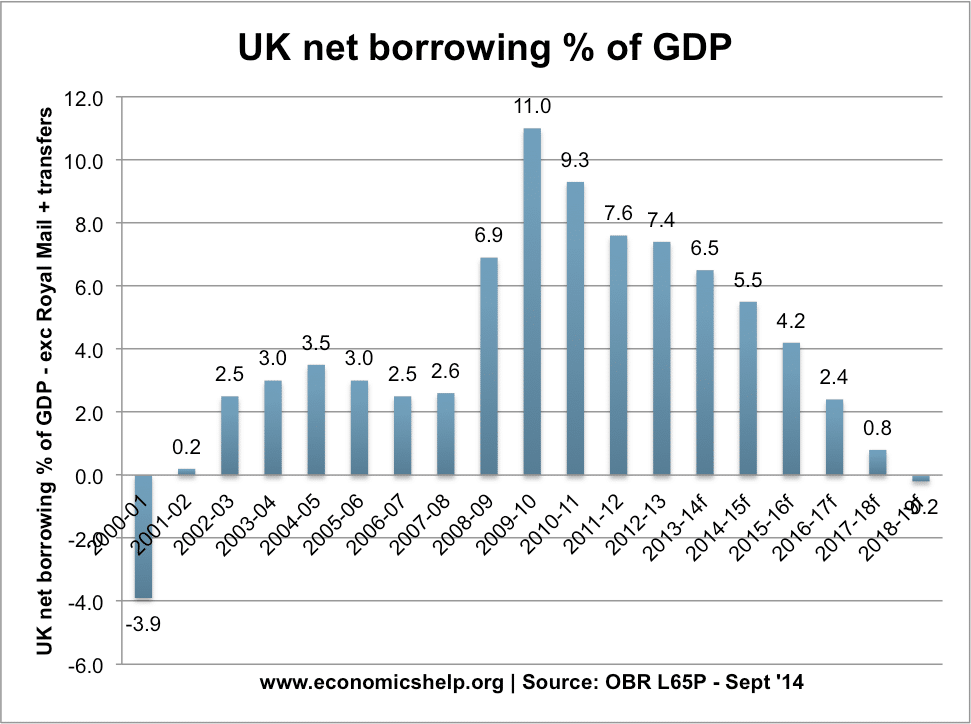 Personally I don't think the budget deficit is a pressing problem. Bond yields are low, the government is in no danger of getting into debt problems, but it has become a media and political issue. In the past few years, cutting the deficit is seen as necessary – whatever the consequences. The chancellor is committed to sharp reductions in government spending to reduce the deficit. This will likely worsen the already weak recovery.
Even the OECD recently warned the chancellor that he should be spreading out spending cuts over a longer time period. (OECD warn UK to reduce pace of austerity)
4. Low wage growth
The UK currently has a weak wage recovery. The economy is growing, but the benefits are not felt by many workers. It raises the question of whether the recovery is sustainable. Though, there are signs that real wage growth is starting to pick up a little.
5. Unemployment
Falling unemployment is one of the success stories of the UK economy in the past four years. So this makes only number 5, but there are still areas of high unemployment, and the concern is that effective unemployment is higher – there is certainly a lot of under-employment – people on zero-hour contracts, people working less than they would like.