Readers Question: What is Canada's National debt?
It is a little hard to decipher as there seem to be two different measures.
Net Federal Debt – NetDebt owned by federal government
Gross General Government Debt
The second statistic – Gross General Government debt includes debt by local and state governments and so gives a higher figure.
Federal Debt
Net Federal  debt stood at $582.5 billion at March 31, 2010.
At start of 2010, Canada's GDP stood at $1.574 trillion (2010)
As a per cent of GDP, net Federal debt stood at 38.1 per cent in 2009–10, up 5.3 percentage points from 2008–09 and down 35.7 percentage points from its peak of 73.9 per cent in 1995–96.
(annual finance report of Canada)
Net debt includes a list of liabilities
Accounts payable
unmatured interest paying debt (bonds e.t.c)
pensions and other liabilities
This gives total liabilities of $883bn
However, the statistics list £300bn assets, giving a figure for net federal debt of $582bn
History of National Debt Canada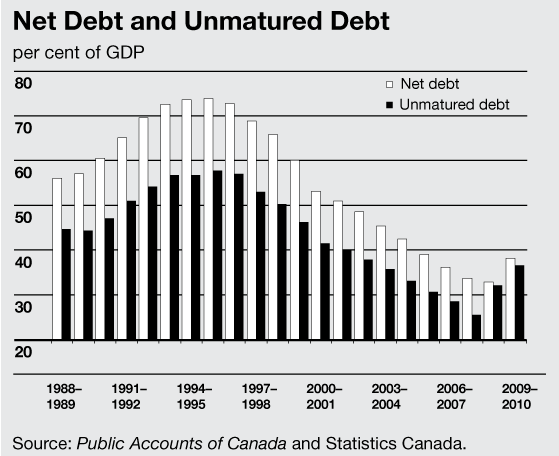 (Source: annual finance report of Canada)
Gross Government Debt
The only figure for Gross government debt I can find is sourced by the CIA factbook at 84% of GDP, but I can't find a source for the CIA statistics outside the CIA. By the way, Wikipedia page on Canada Economy cites as a source for 84% the Canada Financial report, but there is no mention of 85% their – only the 38% of GDP.
Canada should really do a better job at providing statistics on public sector debt. The UK is not easy, but at least every month you can find up to date statistics on public sector debt. (though there are still disputes as to what should be counted as public sector debt)
Statistics