Questions on budget deficits and bond yields.
1. What is the Link between the size of a countries budget deficit, and bond yields?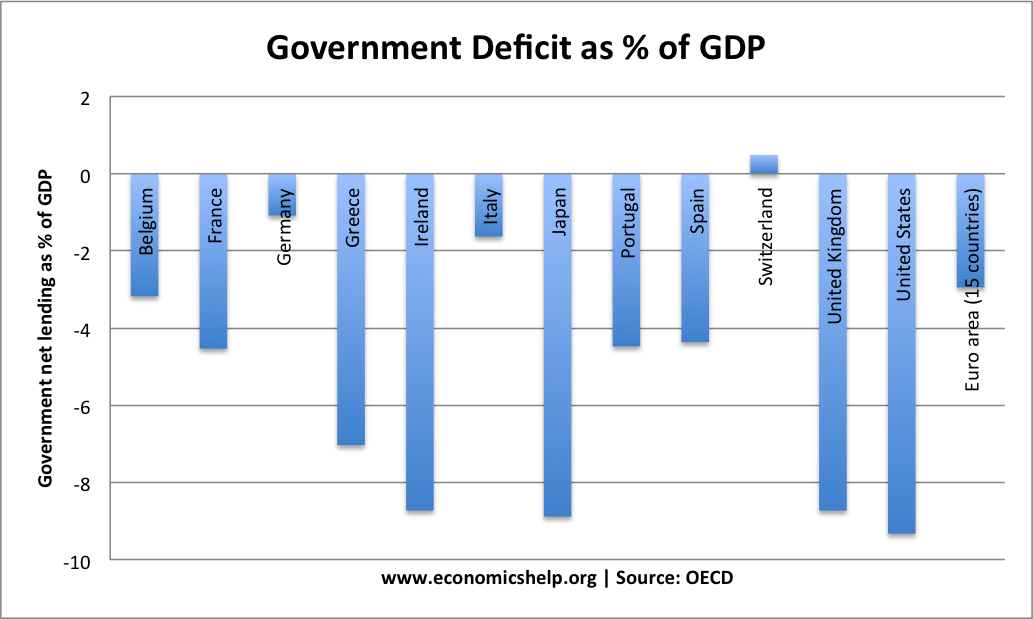 Highest budget deficits – Ireland, Japan, UK and US
10 Year Bond Yields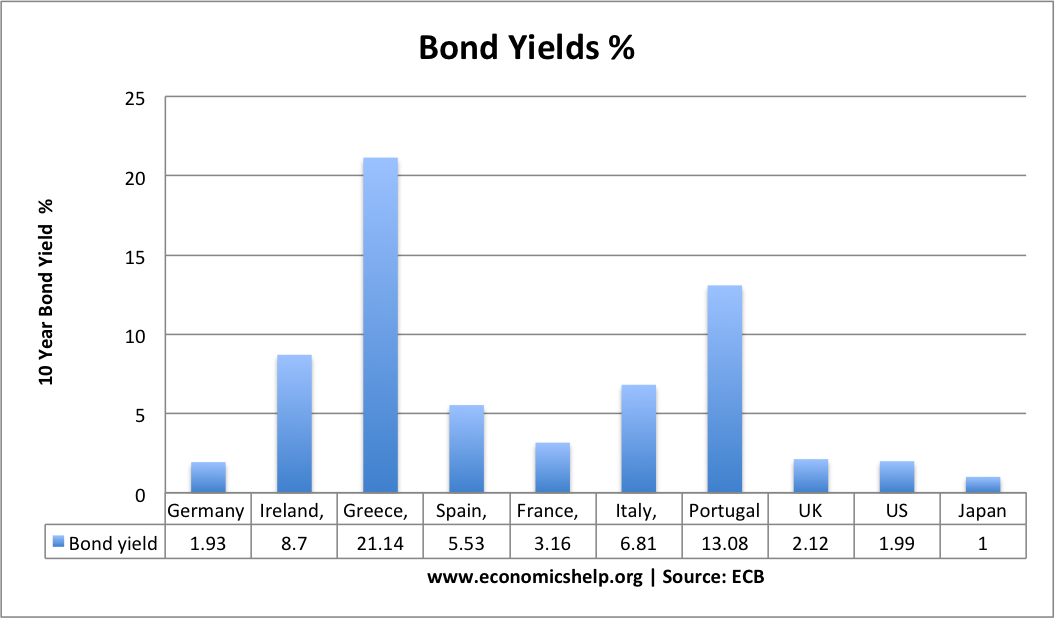 Greece and Ireland seem to have the relationship you might expect – deficit close to 10% of GDP causing bond yields to rise.
But, in the case of Spain and Portugal, bond yields are high given their relatively modest budget deficit.
By contrast, UK, US and Japan have very high budget deficits – yet they have very low bond yields.
Firstly, as well as looking at annual budget deficit, it is important to also consider total levels of debt. For example,a budget deficit is more of a problem if your debt to GDP ratio is already over 100% of GDP. But, on this count, UK, US and Japan have a public sector debt higher than Portugal and Spain.
Why are bond yields so high for Spain and Portugal, but so low for UK, US and Japan?
Itamar Caspi offered this explanation:
1. Independent central bank – If a country has it's own currency, the link between the size of the deficit and bond yields will probably be weak (see the US UK and Japan). On the contrary, being unable to run independent monetary policy will lead to a positive relation – higher deficits lead to high yields.

2. Fiscal multipliers – The larger the effect of contraction fiscal policy (deficit reduction) higher is the probability that cutting the deficit will lead to slow growth and thus to higher yields. That is why we see yields rising even though a country follows fiscal consolidation. for small multipliers, the effect will be the opposite – cutting the deficit will lead to lower yields (for more on that – view IMF – Too much of a good thing).
That is a good start. In addition, I would add.
Why an independent Central bank helps keep bonds low.- The Central Bank can create money and buy bonds. This helps avoid liquidity shortages. Markets have more confidence their will not be a liquidity crisis.
Exchange Rate Policy. Southern European countries are suffering from uncompetitiveness. Their exchange rates are relatively overvalued leading to lower export demand. This overvaluation in exchange rate is another factor leading to lower economic growth.
Overall, I would say the adverse prospects for growth in southern Europe are one of main reasons for rising bond yields. If nominal GDP is predicted to fall, debt to GDP ratios are highly likely to increase.
Experience of UK 2008-2019
Between 2008 and 2021, UK debt as % of GDP rose from 35% to 99%, but during this time bond yields fell from 5% to 0.5%. This was because:
It was a time of weak economic growth. Private sector investment was low, so investors bought government bonds (pushing down yield) instead of private sector investment
Interest rates were cut to 0.5% to try and boost economic growth.
There were no fears of default by the UK government.
Related
Related