According to one Bond trading firm, austerity is a con and government spending hasn't fallen significantly. (Telegraph)
Government Spending 2011-12 – £681.4bn
Tax 2011-12 – £558.1bn
Deficit in finances – £123.3bn
Changes in government spending 2009-10   +4.6%
Changes in Government spending 2010-11  +0.3%
Change in government spending 2011-12   -1.5%
Tulllet Prebon, a bond trading firm have argued that the government have hardly reduced spending at all. They argue that it is improbable that the bond markets would continue to fall for this 'spin job' when spending cuts don't really exist.
However, a few notes:
With inflation running at 3.5 – 4%, in real terms, government spending has fallen by 5.5%.
Government spending has been rising because of automatic fiscal stabilisers, such as higher unemployment benefits. The government has made real cuts, but these cuts have been offset by rising welfare benefits associated with the recession.
The government has found it easiest to cut spending from capital investment. As a % of GDP, public sector investment has shrunk from 3.5% to 1.5%. This has adverse long-term impacts on performance of economy.
Some spending cuts are still to be implement. Reforms to public sector pensions, will help improve the structural deficit.
It is certainly not easy to reduce public spending, public spending creates vested interests and some spending cuts become politically very difficult.
The average growth of public spending has been around 3% in real terms in past years. For example, because of automatically rising pension spending commitments and rising welfare payments. Therefore, it can take effort just to stop this annual rise in spending.
The important thing is not the short term deficit, but long term spending commitments.
In 2008, many said that higher government borrowing would push up interest rates. In the UK, this has not happened. Bond yields on 30 year bonds continue to be very low. An even bigger cut in government spending would have made the double dip recession even worse – Bond markets might not like deficits, but they don't like recession either.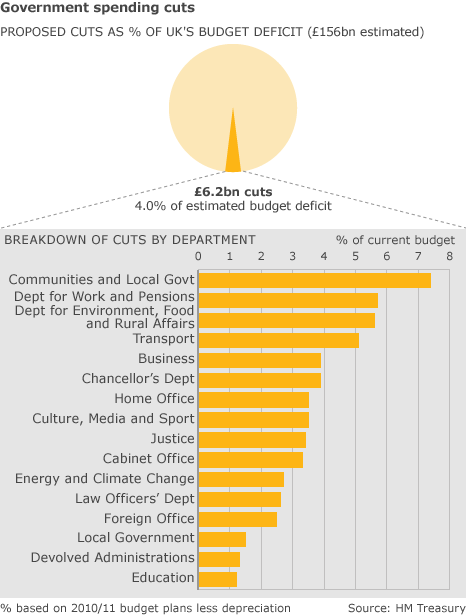 Osborne outlines £6.2bn of spending cuts BBC
Nominal government spending
| | | |
| --- | --- | --- |
| | total government spending £ bn | Nominal % change |
| 2000 | 338.07 | |
| 2001 | 362.57 | 7.25 |
| 2002 | 384.93 | 6.17 |
| 2003 | 415.21 | 7.87 |
| 2004 | 451.5 | 8.74 |
| 2005 | 488.31 | 8.15 |
| 2006 | 502.56 | 2.92 |
| 2007 | 543.96 | 8.24 |
| 2008 | 575.97 | 5.88 |
| 2009 | 621.4 | 7.89 |
| 2010 | 660.81 | 6.34 |
| 2011 | 681.33 | 3.11 |
| 2012 | 687.96 | 0.97 |
| 2013 | 676.57 | -1.66 |
| 2014 | 715.27 | 5.72 |
| 2015 | 728.87 | 1.90 |
Related