Readers Question: Seeing the recent releases of positive UK data come through, I've been thinking whether these are signs of a recovery or it is too soon to say. To what extent is the recent run of positive data across sectors a sign of a balanced & sustained recovery in the UK? (question 7th. Nov)
It is a good question. If we look back to 2010, there were signs of economic recovery, but this was not sustained – with the economy going back into recession. In 2013, the evidence is mixed though a little more hopeful. In summary, the UK economy recovery is being primarily driven by consumer spending, the service sector and a vibrant housing market (especially in London). There is weaker growth in manufacturing, exports and investment. The economy is also being helped by ultra-loose monetary policy (Q.E. and zero interest rates). Fiscal policy is more neutral, though over the next few years, the government plans to restrict the growth in government spending so this is liable to be a drag on growth.
These blog posts are also relevant to this question:
Lending and the housing market
A key feature in the nature of the recovery will be the health of the banking sector. The sharp fall in bank lending was a major factor behind the prolonged recession of 2008-12. Signs of improved bank lending will help the economy. However, although mortgage lending shows signs of growth, this is less helpful than bank lending to business. For sustained recovery, increased mortgage lending and squeezing house prices higher is not particularly helpful. Squeezing house prices higher through increased mortgage lending is not increasing productive capacity. If anything rising house prices in London are reducing geographical mobility and the cost of housing in London will adversely hurt the London labour market. Also, house price to income ratios (especially in the south) are close to historical highs; some fear house price growth is unsustainable. Any fall in house prices would knock consumer confidence and spending.
Real Wage growth
In 2013, there has been growth in consumer spending, but this has come despite slow growth in real wages. A feature of the prolonged recession has been very low / zero nominal wage growth. This means, combined with inflation above the government's target,  many consumers have seen a prolonged fall in real wages. With stagnant real wages, there is a limit to how much consumer spending can lift the UK economy. A sustained recovery will need a return to real wage growth. This may come if inflation falls and firms feel more profitable and able to increase wages. Real wage growth will also require a change in the UK's very poor productivity growth rate over the past five years.
GDP statistics
Firstly, the latest GDP statistics (preliminary from Q3 2013) were promising: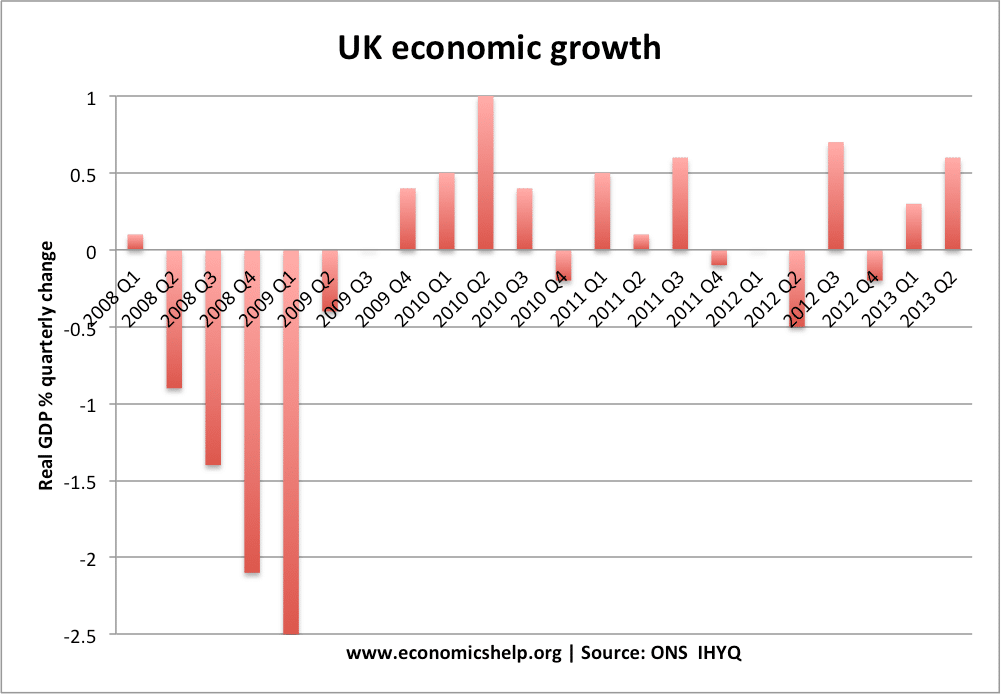 Source: ONS
In particular, data from Q3 suggested growth across the main industrial sectors of the economy.
In output Q3 compared to Q2, output increased by 1.4% in agriculture, 0.5% in production, 2.5% in construction, and 0.7% in services. This was a rare sign of a more balanced growth. Future growth figures are also looking more optimistic, with analysts predicting strong growth in the next quarter.
But, we always need to add a disclaimer to be wary of quarterly statistics. Firstly, we have to be careful about inferring too much from quarterly economic statistics (especially provisional figures which could be revised up or down later) If one swallow doesn't make a summer, one or two positive quarterly growth figure don't overcome a prolonged economic stagnation.
Growing current account deficit and weak exports
Ironically, one day after asking this question, data on exports and the current account deficit was disappointing – raising concerns that the UK recovery was still fragile and unbalanced.
Exports of goods in Q3 2013 decreased by 3.5% to £75.7 billion and were 0.1% lower than in the same quarter of 2012. (ONS) The growing deficit in goods was offset by a better surplus in services, but the UK retains a surprisingly large current account deficit, given the state of the economy.
Britain's trade gap (balance of trade in goods) for September grew to £9.8bn
Britain's goods and services trade deficit was an estimated £3.3bn in September, unchanged from August.
Source: ONS Balance of Payments  |  Current account as % of GDP
Recently, the chancellor called for a doubling of UK exports by 2020. An ambitious target which would require a compound growth rate of 9%. But, recent evidence is not promising. Despite benefiting from a depreciation in recent years, British exports have struggled in a depressed world economy.
The export sector is important because a growing current account deficit raises questions about the sustainability of the UK economic recovery. Relying on consumer spending and a high level of imports makes the recovery less sustainable. Running a large current account deficit requires the UK to attract sufficient capital inflows to finance the deficit. Since the global credit crunch, this has become a more difficult.
Weakness of Europe
Despite growth of exports to non-EU countries, the UK is still reliant on exports to the EU. The continued weakness of the EU economy is an area of concern. This is because with the EU economy stagnating, UK exporters will struggle to increase exports to our main trading partner. The UK economy is very open and reliant on trade. If Europe remains stuck in recession, it will prove difficult for the UK to buck the trend.
Other factors
Other issues about sustainability of the UK recovery include the future reversal of Q.E. and the extent to which business and consumer confidence will return.
Related