Readers Question. Can Labour be blamed for the economic crisis (i.e. did they really 'overspend')?  My view is that the global economic crisis is to blame, and that Labour could have spent less but that this is easy to say with the benefit of hindsight.
I don't think there is any economist who would try to blame the global financial crisis and global recession on the fact the Labour government increased spending on the NHS / education by a relatively moderate amount.
The global recession of 2008-13 was caused by the great financial crisis/credit crunch. The cause of this lay in several factors but was primarily due to:
Excess mortgage lending, especially in the US.
Housing markets experiencing a boom in prices that was unsustainable
Banks around the world taking an excess risk with the purchase of risky sub-prime mortgage debt, rebundled debt – leading ultimately to the credit crisis.
Deregulation of the financial sector in the 1980s and 1990s which made it easier for banks to increase lending, and reduce reserve ratios.
This is only a very brief summary because I have written on this in more detail previously. But, it was essentially a failure of the financial sector.
It is true real government spending under Labour increased significantly. (see more detail at Government spending under Labour)
But, as a percentage of GDP, the rise is far less significant – at least until the recession (2008-09) when GDP fell 6%. (causing spending/GDP to rise)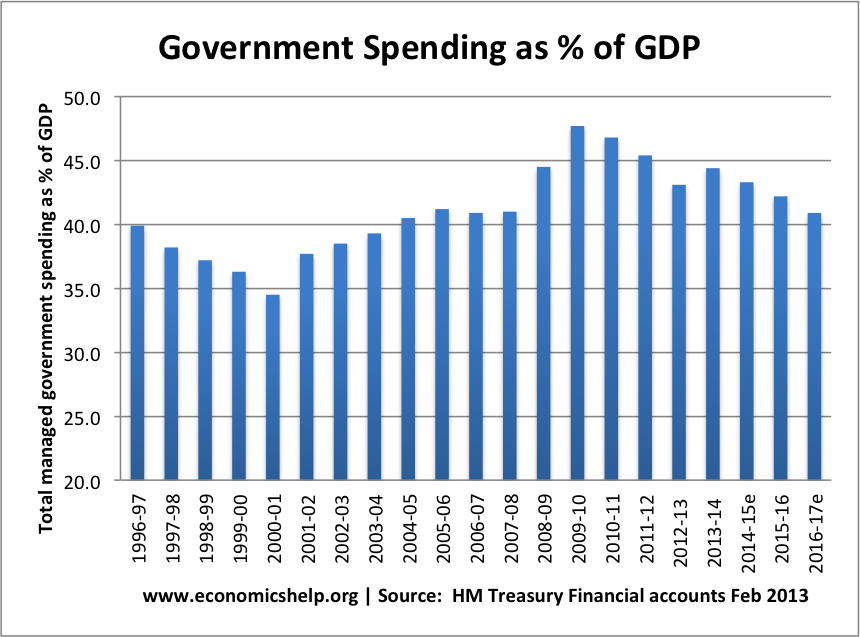 Was it a mistake to run a budget deficit during the boom years of 2000-07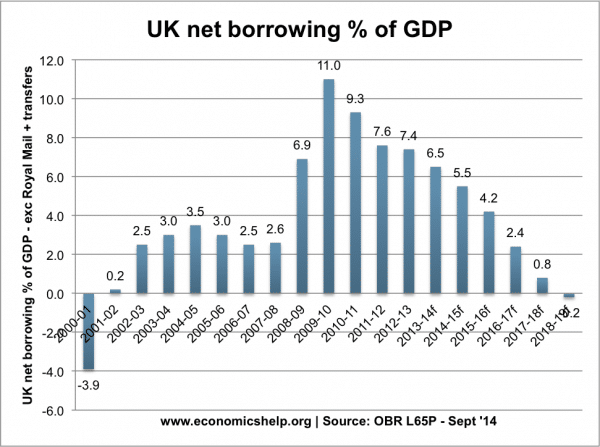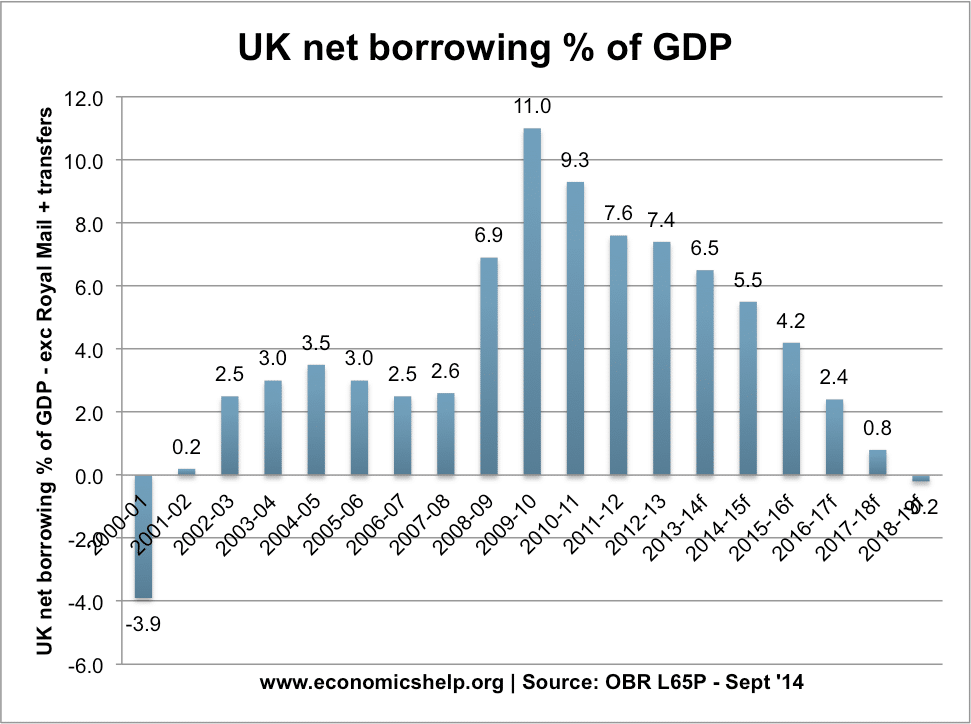 I would say it was a small mistake to run a budget deficit of 3% of GDP during the boom years. From a Keynesian perspective, it would have been more desirable to have run close to a balanced budget.
However, it is also worth mentioning
I don't think a balanced budget would have done anything to prevent a recession. The recession would still have occurred with the same impact, even with a balanced budget. This is because the global recession had nothing to do with UK government spending/government borrowing.
I don't believe governments have to run a budget surplus during boom years. Borrowing to fund investment in improving long-term infrastructure can reap long-term benefits. (I will write more on this in the future)
Tax receipts based on boom economics. One criticism about the UK finances (like many other countries) in the 2000s was that UK tax revenues were quite reliant on a booming financial and housing sector. When the financial market fell, tax receipts were very hit hard (and have struggled to recover). In other words, the UK fiscal position was not as good as it looked.

Borrowing and room for manoeuvre
One argument is that if the UK had run a balanced budget in the 2000s, public sector debt would have been lower and the UK would have had more room for manoeuvre in pursuing expansionary fiscal policy when the recession hit and we needed expansionary fiscal policy.
There is some credence to this, with a balanced budget and lower public sector debt to start with, governments may have felt greater confidence to borrow even more in the recession – when the UK economy needed expansionary fiscal policy.
However, it is also worth being sceptical. Public finances in the UK were very good in 2007; by comparison with the past 100 years, we were near a record low.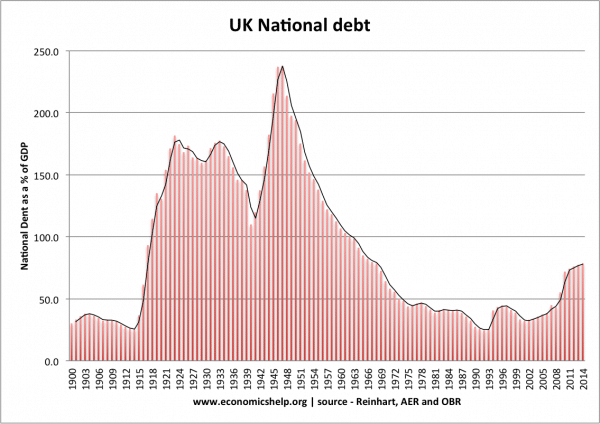 The UK did have room for expansionary fiscal policy in 2008, bond yields were falling – there was never any fiscal crisis in the UK.
The lurch to austerity post-2010 was unnecessary driven more by Micawber economics and the strong political appeal of austerity. My feeling is that even if the UK had run a balanced budget in 2000-07, there would still be the same strong calls for austerity. People who think £180bn is 'too much borrowing' – would probably think – £80bn borrowing is too much as well.
The real economic mistakes of pre-crisis period
The real mistakes of the pre-global recession period were not government spending or government borrowing (which were both pretty good by post-war standards). The missed opportunities were:
Failure to regulate the financial system. The 1980s saw a period of financial deregulation, building societies became profit oriented banks willing to take extravagant risks (e.g. Northern Rock, Bradford & Bingley) In the US mortgage companies behaved with complete irresponsibility. The lax controls on mortgages and bank ratios was a great mistake.
Failure to build up a bank bailout fund. In the boom years, it would have been a good policy to make banks pay into a fund for their potential future bailout should the market turn. This would have curtailed some of the bank's risky expansion and meant that there was a government fund to use to bail out banks – rather than just relying on general taxpayers money.
Housing market. The boom and bust in the US and European housing markets was a significant issue.
The Euro. The Euro is a deeply flawed economic policy, which has a very strong deflationary bias. The pre-crisis period saw massive imbalances in the Eurozone area with countries in the south running current account deficits running into 10-12% of GDP. Without currency fluctuations, without a lender of last resort – in retrospect, this was a disaster waiting to happen.
Greek debt. The one country with a real debt problem was actually Greece. Other European countries, such as Ireland, Spain and Portugal had very low levels of government borrowing at the start of the crisis but were forced into a debt crisis through the mechanism of the Euro.
Was anyone calling for regulation of banks / mortgages / housing market?
To be fair to Labour, they were not alone in ignoring the shadowy world of financial markets – just about everyone, including the majority of economists, didn't realise what a hidden problem the financial markets were.
For example, I don't think even the most ardent Conservative supporter would claim that the Conservatives would have taken on the banks and prevented the financial crisis.
Conclusion
On a personal note, I've found it quite difficult how it has become accepted the conventional wisdom that somehow Labour economic mismanagement was responsible for the great recession. It is a bit worrying how the banks have got off very lightly with the blame rather disingenuously put onto this vague idea of Labour economic mismanagement.
Related