Given levels of UK national debt and forecasts for rises in government debt, what are the prospects for a UK debt default?
The UK has had higher levels of national debt after the First and Second World War
Bond Yields
Bond yields on UK government gilts are reasonable and don't predict any default. In fact as debt rose 2010-19, bond yields fell.
Problems of Eurozone
The problems of Greece and made markets more nervous about levels of government borrowing. It means markets are being more critical and careful about lending to governments. With one of the largest levels of current annual borrowing (over 11% of GDP) the UK is increasingly open to market scrutiny.
However, by being out of the Eurozone, the UK has more flexibility. It has the ability to allow currency to depreciate.  This provides a boost to growth. (though does make it less attractive for foreign purchasers of UK bonds. See the rate of UK foreign bond holdings). The UK also retains an independent monetary policy. The policy of Quantitative Easing staved off threat of deflation. It also led the Bank of England to holding government bonds equal to 14% of GDP.

source: IMF via telegraph
Long Term Prospects
The long term prospects for UK debt depends to a large extent on the rate of economic growth. Strong growth would ease the cyclical debt and make it easier to cut spending without causing double dip recession. However a prolonged period of stagnant growth and deflation which would definitely increased the debt burden, and suddenly the prospects for the UK would diminish.
At least in the short term, the UK is helped by the length of debt maturity. Because the UK has the longest debt maturity ratio, it means it has to raise comparatively lower amounts of debt in the short term. See: graph here
Default Through Inflation
It is possible to have a partial default through deflating the value of bonds through inflation. At the moment, inflation is above the government's target. But, despite Quantitative easing, underlying inflation is still moderate. There are no signs of runaway inflation at the moment, given levels of spare capacity in economy.
However, a higher rate of inflation in the UK compared to Eurozone would make it more difficult to attract foreign investors to hold UK gilts.
Historical Debt Default
The UK doesn't have a history of debt default (despite much higher levels of Debt to GDP e.g. 200% in late 1940s). See: Historical levels of national debt
That doesn't mean we could easily borrow 200% of GDP now – far from it. We were able to borrow so much in late 1940s because
Higher domestic saving (period of austerity, rationing cards e.t.c)
We survived due to generous Loan from US (which arguably made us politically dependent on US, e.g. Wilson refusing to criticise Vietnam War for fear of upsetting out main creditor. There is no chance of the US giving us a loan at the present time. The US has arguably a bigger debt problem than us at moment.
Even longer debt maturity in the 1940s – many war bonds sold on good terms for government. It was easier to inflate away debt in 1940s and 50s because most bonds were long term.
Financial Intervention
Without the financial sector intervention, gross debt is 'only' 54% of GDP (April 2010) compared to 62% of GDP with financial sector intervention. The recovery in the banking sector and rise in share prices, gives hope that the UK may recover this financial sector bailout.
Immigration
The population of the UK is forecast to rise to close to 70 million in next decade due to immigration. This may cause housing shortages e.t.c, it may not be very popular. It may even be stopped by government legislation. However, Britain's growing population does actually help government finances. It helps avoid an ageing population with increasing demands on government pensions and less income tax receipts.
Forecast for UK debt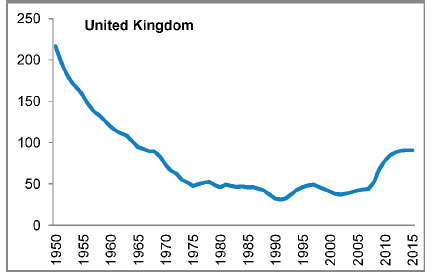 According to IMF, the forecast level of UK debt is to stabilise over the next few years. This is much lower than other countries such as Greece, the US and Japan
Will the UK default on debt?
At the moment, it is hard to see the UK defaulting on debt – unless there is another recession and a period of debt deflation. Hopefully, this prospect is unlikely (though not impossible). For a country in the Euro fiscal straight jacket (e.g. Spain and Greece) this is not so certain. One hopes that the ECB will promote a looser monetary policy to ease the fiscal tightening.
Related