Readers Question: Does the Rahn Curve support the empirical evidence? If not, why not? Can you prove that there is a relationship between the level of Government Spending and GDP growth?
The Rahn Curve suggests that there is an optimal level of government spending which maximises the rate of economic growth. Initially, higher government spending helps to improve economic performance. But, after exceeding a certain amount of government spending, government taxes and intervention diminishes economic performance and growth rates.
Diagram of Rahn Curve
Reasons moderate levels of government spending increase economic growth
Governments can spend on infrastructure ignored by free-market, e.g. road, railways. This helps to reduce the cost for business and improve productivity.
Governments can support education which helps to increase labour productivity and economic growth
Governments can spend money to provide law and order and help improve social and political stability which is necessary for economic growth.
Why government spending can start to hold back rates of economic growth
Higher spending requires higher tax rates. Higher tax rates can create disincentives to work and disincentives for entrepreneurs to take risks.
Higher government spending may crowd out private sector spending. Private sector spending and investment is likely to be more efficient because of the profit incentive to be efficient, whereas government spending is more prone to inefficiency and misplaced spending due to poor information.
Nationalisation of key industries can lead to greater inefficiency due to problems of government managing business.
A generous welfare state can create disincentives to work.
Government regulation of industry can create additional costs to business.
How reliable is the Rahn Curve?
Be wary of ideological preferences. Proponents of the Rahn curve tend to use it as a tool to argue that beyond a certain level – high levels of government spending hinders economic growth. For example, the Centre for Freedom and Prosperity [link] point to empirical studies which suggest that the optimal level of government spending for economic growth is between 15 and 25% of GDP. That page also shows links to other reports and empirical studies which would be worth investigating for your paper.
The Centre for Freedom and Prosperity has a clear ideological stance that they dislike government spending. It is not surprising they highlight studies which show results favourable to their belief in reducing the role of government.
Catch-up effects. When countries are in a certain stage of development growth tends to be higher and government spending a smaller % of GDP. However, this does not necessarily prove the high growth is caused by low spending. A more convincing explanation would be that at certain stages of development it is easier to maintain high growth rates (e.g. China and India) because countries can easily catch up – by adopting technology from advanced economies. And it may be that these growth rates could have been even higher if the government had invested in infrastructure improvements.
Government spending can be of different types. To say that the optimal level of government spending is 20% is like plucking a figure out of the sky. It depends on what the government spends its money. If the government is spending money on generous benefits for the unemployed it is unlikely to be boosting growth rates. If the government is spending money on overcoming market failures such as providing education, training and infrastructure improvements then these can be helpful in increasing growth rates. Some argue with ideological fervour that government spending is always 'inefficient' But, this is lazy economics; some government spending can be inefficient, but, there is no reason why it has to be always inefficient.
Cherry-picking of data. Trying to find a link between economic growth and government spending makes it tempting to 'cherry-pick data' It is always easy to find particular examples of high growth with either high/low government spending.
Many factors affecting economic growth. Economic growth is determined by confidence, infrastructure, political stability, education, skills, the attitude of workers/entrepreneurs, technological development and many more. The point is levels of government spending is one minor factor out of very many. So it becomes very difficult to prove empirical links – there are too many factors involved.
Conclusion
I am rather dubious of the Rahn Curve; there are too many difficulties in deciding whether the level of government spending can influence the rate of economic growth. It would be more useful to examine whether particular government spending decisions have an impact on growth.
There is also another issue which can get lost – the fact that maximising growth rates is not necessarily the government's highest priority. Issues of equity, fairness and concern for the environment are arguably more important than maximising rates of economic growth.
Real GDP per capita and government spending
Real GDP is different to economic growth. Economic growth is the rate of change of real GDP. But, it is worth having the perspective of living standards as this matter more to individuals than economic growth.
Government spending in the US is approx 35% of GDP, in UK approx 38% of GDP, in western Europe, some countries have more than 50%.
The countries with the lowest rates of real GDP tend to be the poorest.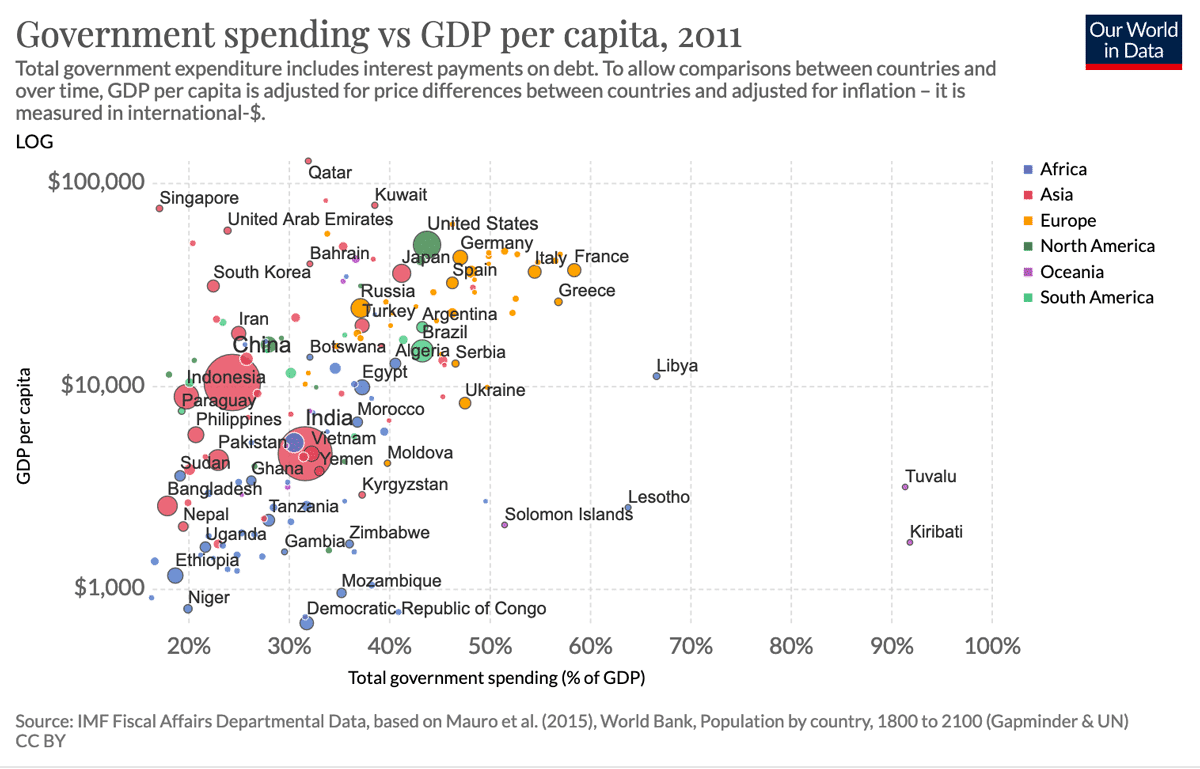 Source: Our world in data
Quality of life and government spending
Countries with the highest quality of life index tend to be those who have the highest levels of government spending as a % of GDP.
Developing countries with the lowest levels of quality of life tend to have lower levels of government spending as a % of GDP.
Quality of life index
Optimal Levels of Government Spending
Nevertheless, it is still worth considering the optimal levels of government spending.
For example, increasing state benefits will at some point have a trade-off of lower economic growth.
A current issue is the level of state pensions and the optimal age for retirement, reducing state pensions (making people work longer) will probably lead to lower government spending and higher rates of economic growth.
Another interesting question is whether there is a case for the government being involved in any industry. Does privatisation increase growth rates or can governments own public services like rail, health and education without compromising economic growth
Related