Readers Question: When does velocity of money pick up and why will it? Clearly, the reason US inflation worriers have been wrong so far (NB). Is it confidence or policy?
The velocity of circulation / velocity of money refers to how frequently the money stock in an economy is used in a given period.
In the basic money supply equation, we have MV=PY
M= Money supply
V = Velocity of circulation
P = Price Level
Y = Income (in other versions, T also used for transactions)
If there is £1,000bn of money in the economy, and the total value of transactions in a year is £1,000bn, then the velocity of circulation is just 1.
If the total value of transactions rises to £3,000bn, this means the £1,000bn of money stock is being used three times in an economy. This gives a velocity of circulation of 3.
Quantitative easing and a fall in the velocity of circulation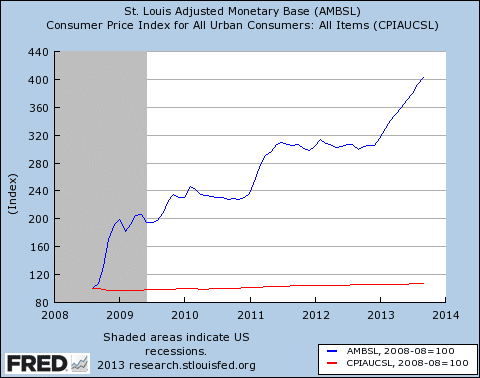 Blue line is the monetary base (one form of money supply). This surge in the monetary base has had no effect on inflation.
During the period of quantitative easing, we saw a big rise in the monetary base, but, inflation didn't increase. The reason for this is that people didn't want to spend this extra money. To be more precise, banks didn't want to lend this extra increase in the money supply, they just kept bigger bank reserves. Therefore, the money supply didn't filter through to the wider economy.
Velocity of circulation

The Green line shows a fall in the M1 velocity of circulation at the start of 2009 (wiki)
This is to be expected in a recession. Banks reduce lending, consumers reduce spending, and there is a rise in saving. Therefore, the velocity of circulation falls. This explains why a rise in the money supply doesn't cause inflation (which it might if the economy was at full capacity)