Readers Question: There are around 22 million households in the UK, 2/3 of whom own their house.
So the rental market would be around 7 million of whom one million receive benefit, some portion living in social housing, some in private rented housing. Does that seem reasonable? Can you point me towards actual numbers?
In August 2014, 4.93 million received housing benefit, at an average weekly payout of £93. This gives a rough annual cost of £23 billion. Dept Work and Pensions
What is housing benefit?
Housing benefit is a means tested benefit paid to the unemployed and low paid to help with the cost of rent. For a family living in a large four bedroom house – housing benefit can be up to £400 a week. (Housing Benefit.gov.uk)
The aim of housing benefit is to help those on low income afford their housing costs.
It is particularly important for areas of high housing costs, such as London. Without housing benefit, there would likely be a shortage of workers because people would have to move away to cheaper areas.
Housing benefit helps to reduce inequality and relative poverty by helping people with their major living costs.
Housing benefit can help avoid homelessness by giving people help with housing costs.
Housing benefit can be claimed with other benefits, such as unemployment benefit and tax credits.
Whether you are eligible and the amount you get is determined by a local authority housing allowances (LHL)
Number claiming housing benefit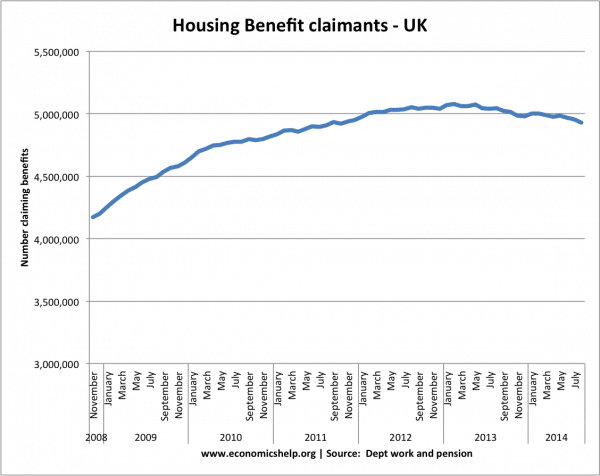 Housing Benefit case load statistics Dept Work and Pensions
Source: Single Housing Benefit Extract (SHBE), via Stat-Xplore
Of this 4.93 million
1.28 million are over 65.
468,000 are receiving job seekers allowance
3.3 million are in the social rented sector. 1.6 million are in the private rented sector
The biggest area for receiving benefits was London with 835,000.
The great recession of 2008-2014 saw a marked rise in the numbers eligible for housing benefit. The numbers claiming housing benefit peaked at just over 5 million in early 2014. In Aug 2014, 4.93 million received housing benefit.
The rise in numbers claiming housing benefit is due to factors such as:
Fall in real wages causing more people to be eligible for income related means tested benefits.
Rise in unemployment during the great recession, which significantly reduces income.
Rise in cost of renting during this period.