Readers Question: Why is it so expensive to rent a house in the UK?

The average cost of renting a property in the UK is now £1,060 a month (£1,752 in greater London) statista. Between 2005 and 2022, the cost of private renting in England has increased nearly 40% (index from 82 to 114) The high cost of renting is due to the shortage of supply in the UK, the growing number of households and the period of low-interest rates since 2009, making it more attractive to try and buy.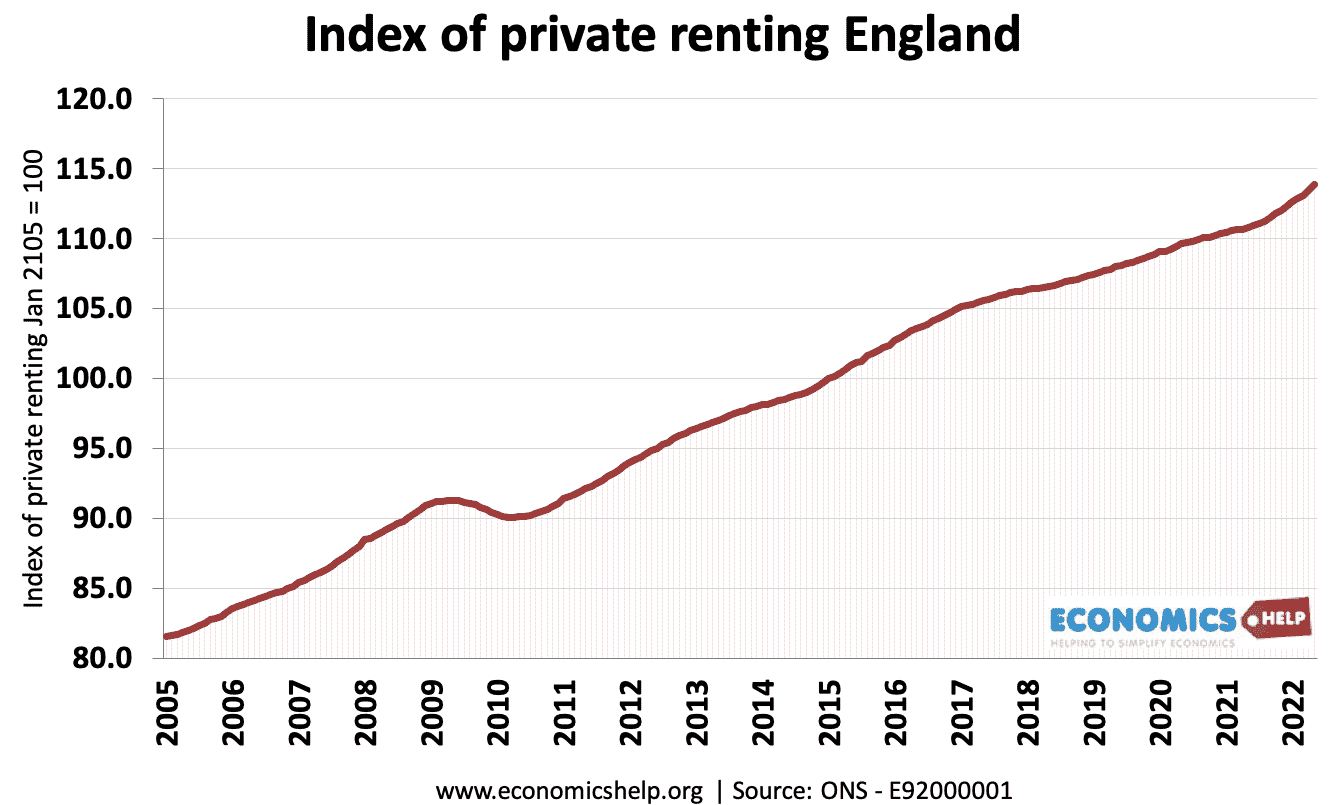 Between 2005 and 2022, the cost of private renting in England has increased nearly 40% (index from 82 to 114)
This is at a time of stagnant/very low real wage growth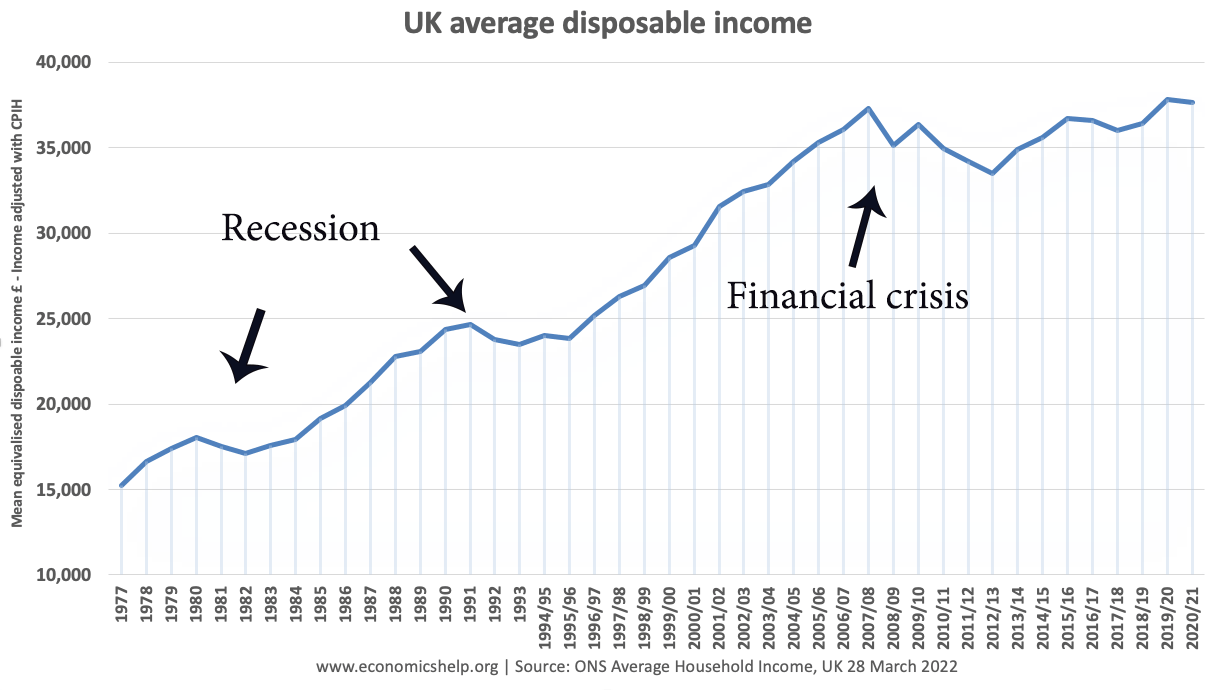 This shows that since the financial crisis of 2009, average disposable income growth has slowed down, falling way behind the increase in rental costs. Therefore, rents have risen despite low real income growth.
Reasons for expensive renting
House prices are even higher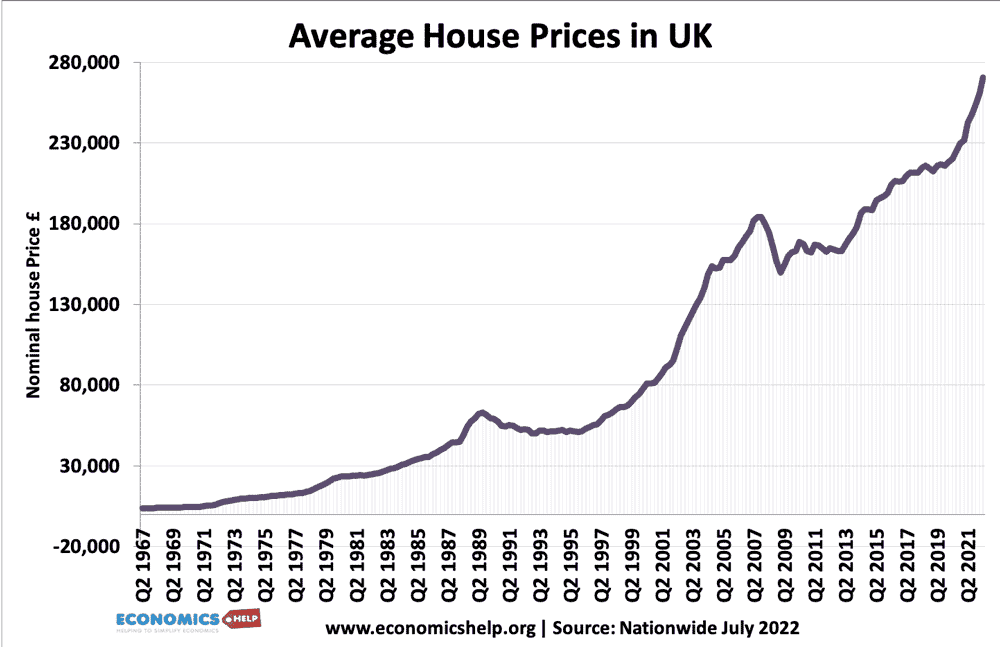 Real house prices (adjusted for inflation)
Rising house prices and rents are closely linked. Renting is the alternative for buying a house. In the UK, buying a house is considered highly desirable. But, increasingly first time buyers cannot afford the high prices. The housing market is influenced by
Shortage of supply. The UK population is growing relatively fast, and the number of households is forecast to grow sharply (also more single people living alone). Demand is forecast to grow by 250,000 a year. However, supply is constrained by planning permissions and the difficulty of making land available. This is especially true in major cities, such as London. Local planning regulations means it is easier for local communities to block the building of new houses.
Low interest rates have definitely helped increase house prices because mortgages are cheaper. Low interest rates mean that buying a house can give a better rate of return than buying other forms of investment, such as shares. An investor looks at the return on housing (rentable income) vs the cost of buying a house (mortgage interest payments). Very low-interest rates increase the attractiveness of buying a house as an investment. The buy to let market has been buoyant but this has meant more first-time buyers having to rent rather than buy.
Growing number of households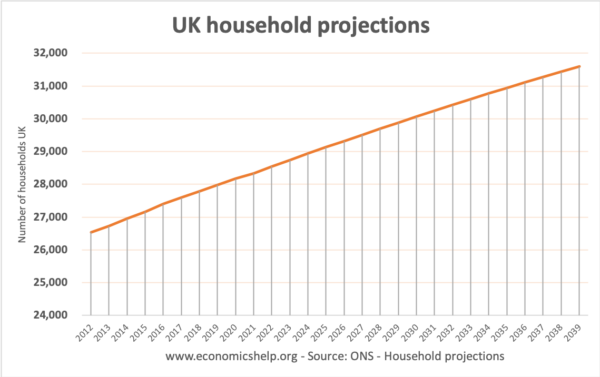 The UK population continues to grow (52 million in 1960 to 63.23 million in 2012). The forecast is 71 million by 2033.
Shortage of council housing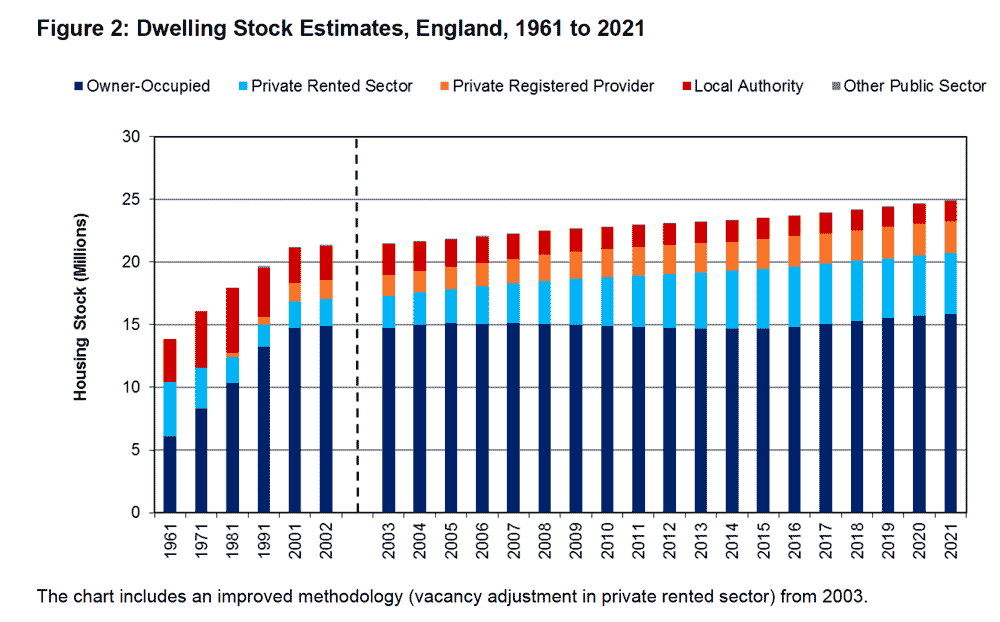 In 1981, social housing was approximately 30% of housing stock. By 2001, this had fallen to 20% and 16% by 2021.  Private renting has doubled as a share from 10% to 20%.
From the 1980s, council tenants were given the Right to Buy. This led to a large fall in the amount of publically provided social housing. This has not been replaced by new council housing builds and so more households have needed to look in the private sector, where continued shortages have caused higher prices.
---
Why are rental prices more stable than house prices?
Many tenants have longer-term contracts. Landlords may enter into agreements (either formal or informal) to keep rental prices fairly constant. House prices, by contrast, are driven by supply and demand. If more people enter the market for buying a house, it can push prices higher. If house prices rise 20%, it doesn't mean homeowners will see a 20% rise in the cost of mortgage payments. Most homeowners will be unaffected in the short term by rising house prices. Renters will be affected directly by any change in the cost of rent. Most renters couldn't afford more a sharp jump in rents.
Rents not affected by interest rates. If interest rates go up, this doesn't change the cost of renting. But, it might dissuade people from buying a house. Similarly, if interest rates fall, landlords will not pass the interest rate cut onto tenants.
Supply more elastic. It is likely that rental properties are slightly more elastic than houses. If there is greater demand for renting, and the price of renting goes up, it may encourage more landlords to put houses for rent on the market or it may encourage people to let out a room. However, this point is just an assumption – it would need a bit more investigation.
Demand more price elastic for renting. If rents rise in London, it may encourage workers to move elsewhere to find cheaper rents. Renters are more flexible and more price sensitive. If you want to buy a house in a certain area, your demand is more likely to be price inelastic. If house prices go up, you may be willing to pay the higher price – you don't notice a price rise straight away. Higher prices are spread over the 30 years of the mortgage term.
Buying houses as investment. Rising house prices have encouraged more people to buy houses as an investment. This pushes up house prices, but consequently leads to an increase in the supply of rented accommodation. Therefore, you could have a situation where a sharp increase in buy to let activity, pushes up house prices, but decreases rental prices. Evidence suggests the % of homes which are owner occupied has declined in recent years; this could imply an increase in the supply of homes put on the rental market.