The UK economy in 2016 is emerging from a long period of economic stagnation and the recession of 2008-12, and has some positive signals of growth, low inflation and falling unemployment.
However, the UK chancellor has been giving mixed signals. On the one hand he has pointed out that UK has one of the strongest rates of economic growth in the developed world. On the other hand, he is also keen to lower expectations pointing to the many potential pitfalls to future economic growth.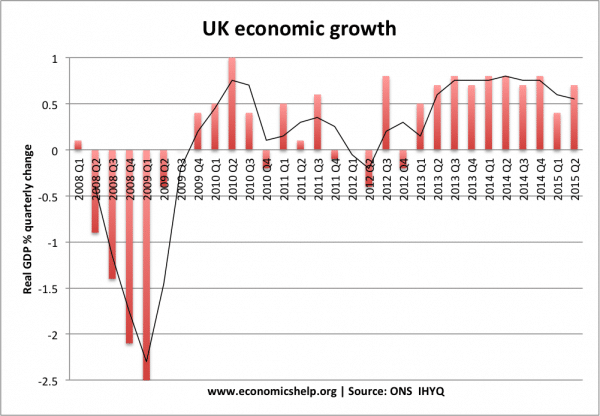 Summary of UK economy in 2016
Positive economic growth for past couple of years, with low inflation (0.1%) and falling unemployment (5.3%)
However, economic recovery is still fragile, with growth helped by low interest rates of 0.5%, and a fall in the savings ratio.
UK economy has outperformed (marginally) some of our European neighbours, but this has contributed to current account deficit and fears weak growth in Europe may curtail the UK economic recovery.
Although the budget deficit has fallen from crisis peak of 10% of GDP, the chancellor has indicated he still wishes to reduce deficit further. This will entail continued strictness in government spending.
There are signs the UK economy is unbalanced with rapid rises in house prices increasing wealth inequality and creating problems for those who cannot afford to buy.
Problems facing UK economy in 2016
Weak growth in major trading partners – Europe and Asia, could lead to lower exports.
Years of negative real wage growth have led to higher personal debt levels and lower saving ratios.
Continued squeeze in government spending as government seeks to reduce budget deficit.
Fall in oil prices could cause problems for oil industry and banks who have lent credit for investment
Headline inflation close to actual deflation, which could cause low growth.
UK is still reliant on services and consumer spending. Growth in manufacturing, construction and export sector much weaker.
Interest rate dilemma. Some would like to see interest rates rise, but it will have big impact on discretionary income of many homeowners and consumers.
UK economic growth
Economic growth in 2015 Q3, 0.5%
In recent quarters, economic growth has been fairly consistent at around 0.5-0.7%; this is close to the UK's long run trend rate of economic growth, and usually would be a very good sign. However, the economy is still trying to catch up from the lost output during the great recession.
The concern with economic growth is how sustainable it will be in 2016 and 2017? A slowdown in Europe and Asia could easily reduce confidence. Also, a rise in interest rates would hit consumers who have relatively high levels of debt and have become accustomed to low rates.
Economic growth has been boosted by population growth; economic growth per capita is less impressive.
Inflation
A difficulty during the early parts of the great recession was that inflation well above the governments target of 2%. However, since 2014, headline CPI inflation has fallen below the government's target and in recent months has been close to zero. This has been helped by falling oil prices and other commodities, but also is a reflection of the relatively weak demand and downward pressure on wages.
The recent rise in real wages may enable inflation to creep back towards the target. But, with inflation still perilously close to deflation, the Bank of England will be reluctant to raise interest rates – indicating how far from normality the UK economy still is.
Current account balance of payments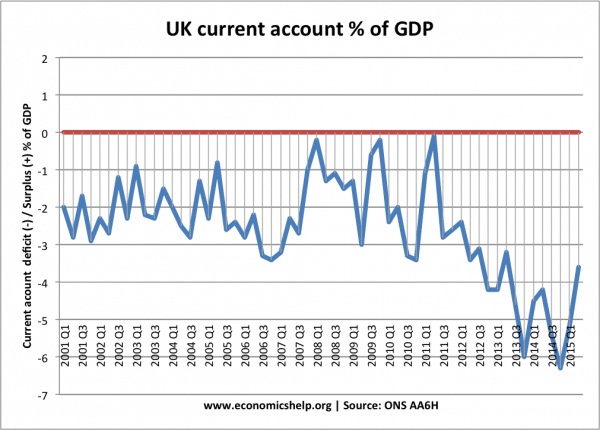 Usually in a recession, you see an improvement in the current account. But despite weak economic growth, the UK has seen a sizeable current account deficit in this period. This reflects the unbalanced nature of the UK economy – relying on consumer spending and still having weakness in exports. It also reflects the UK's economic growth has been better than European economies.
Unemployment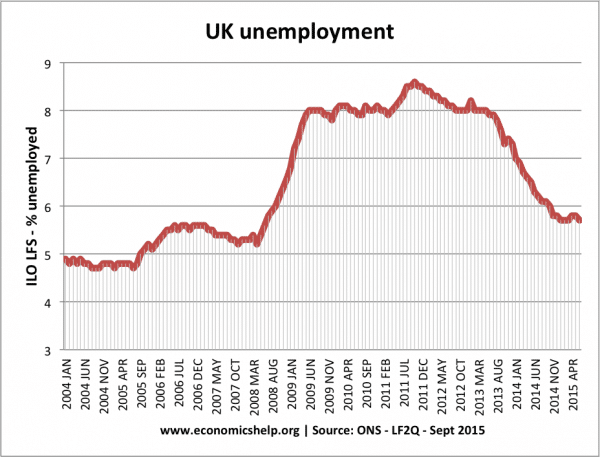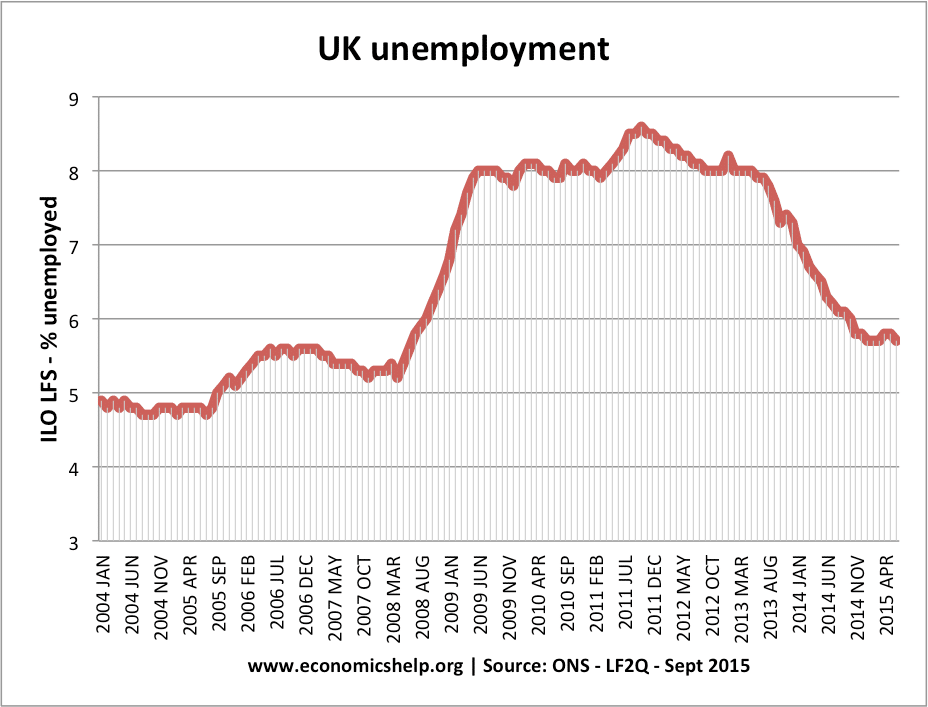 The headline ILO unemployment figures show a positive trend – a significant fall in unemployment to 5.5%. This is much better than previous stages of the economic cycle. For example, after the 1981 recession, unemployment remained high for a considerable period. This suggests that the UK labour market has become more competitive and more flexible – helping to keep unemployment low.
However, the downside is that the fall in unemployment has been enabled by low wage growth, poor productivity and a growth in zero hour contracts – with higher levels of 'under-unemployment.
Budget deficit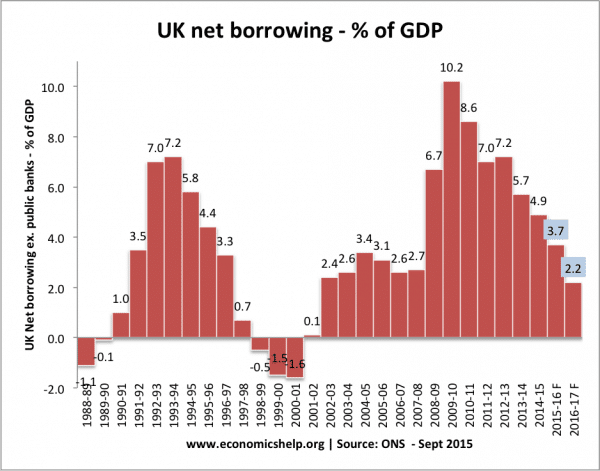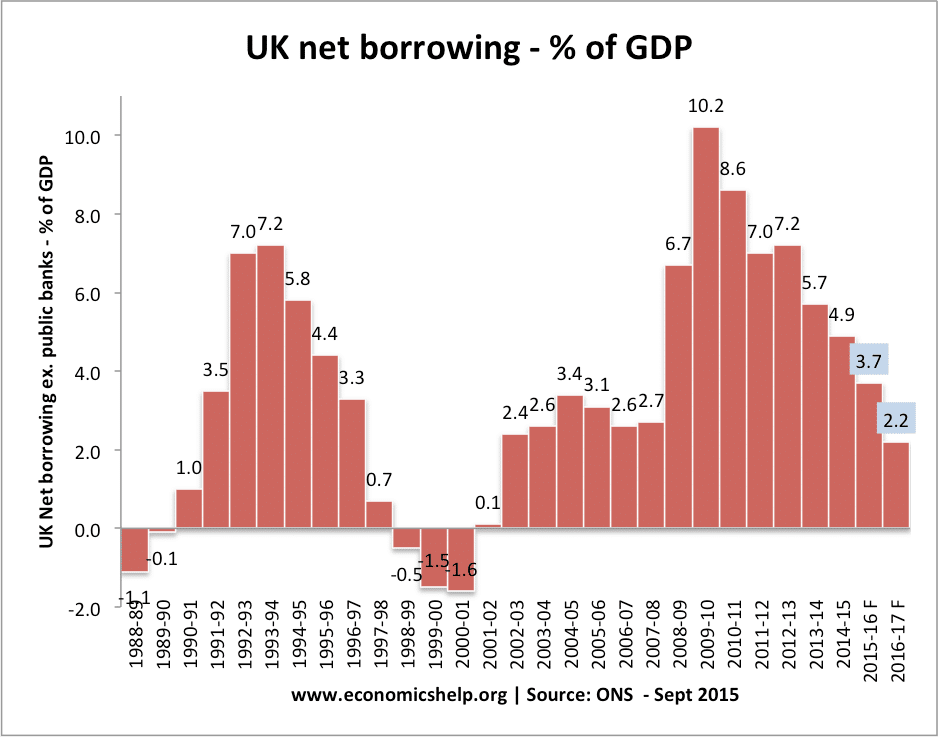 Figures for 2014-15 onwards are forecasts.
View:  Latest statistics at OBR
Reducing the budget deficit has been a central plank of the chancellor's economic strategy. It has involved selected austerity within certain government departments, and an aim to reduce government spending as a % of GDP to the lowest level since before the Second World War. His plans for reducing budget deficits have often been missed as lower than expected tax revenues have kept borrowing higher than planned. The state of the public finances and the government's commitment to reducing the deficit further will have a big impact on the demand side of the economy and also the level of public sector investment.
National debt / public sector debt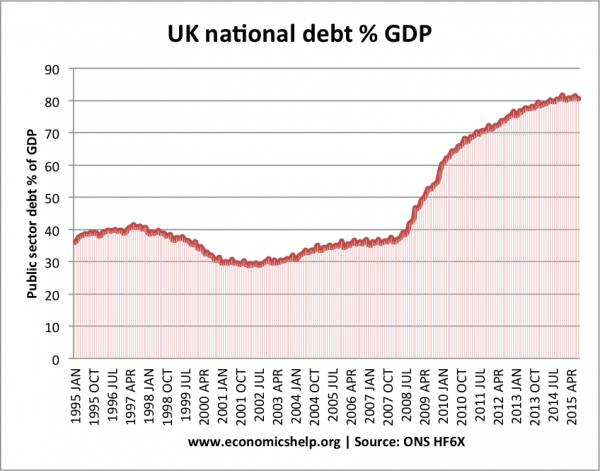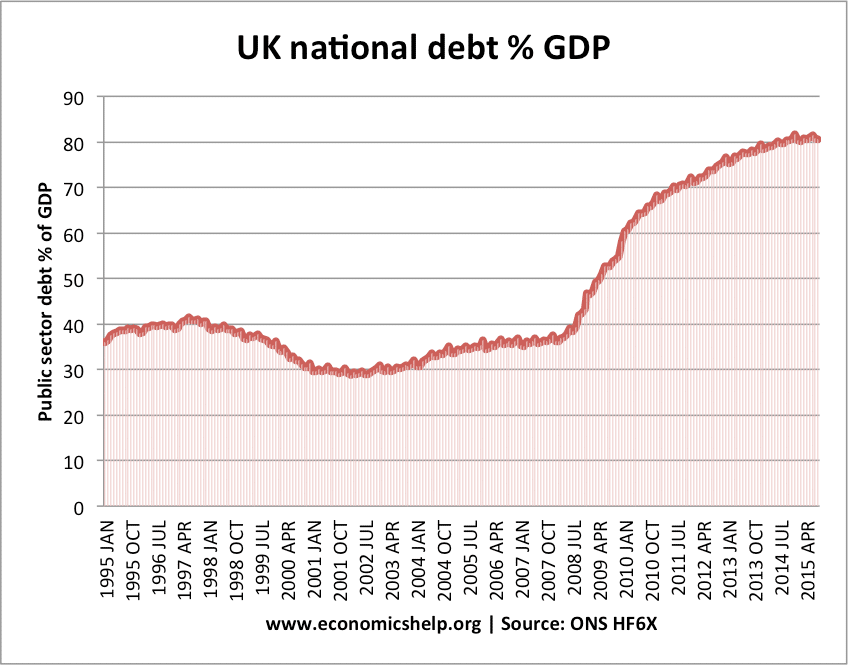 After a sharp rise in the public sector debt at the start of the great recession, the rise in public sector debt as a % of GDP has begun to stabilise at just over 80%.
House prices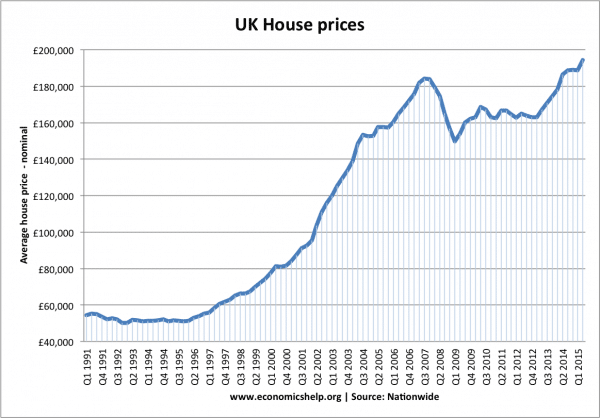 A curious feature of the UK economy is how house prices have continued to boom – even with very low wage growth. It reflects a micro economic aspect of the UK housing market, where demand is rising faster than a very limited supply. However, it is having significant economic impacts on local economies, especially areas with very high house prices, such as London.
Recent UK Labour Productivity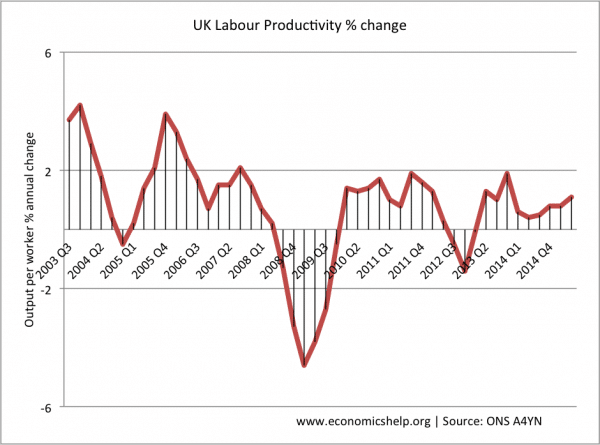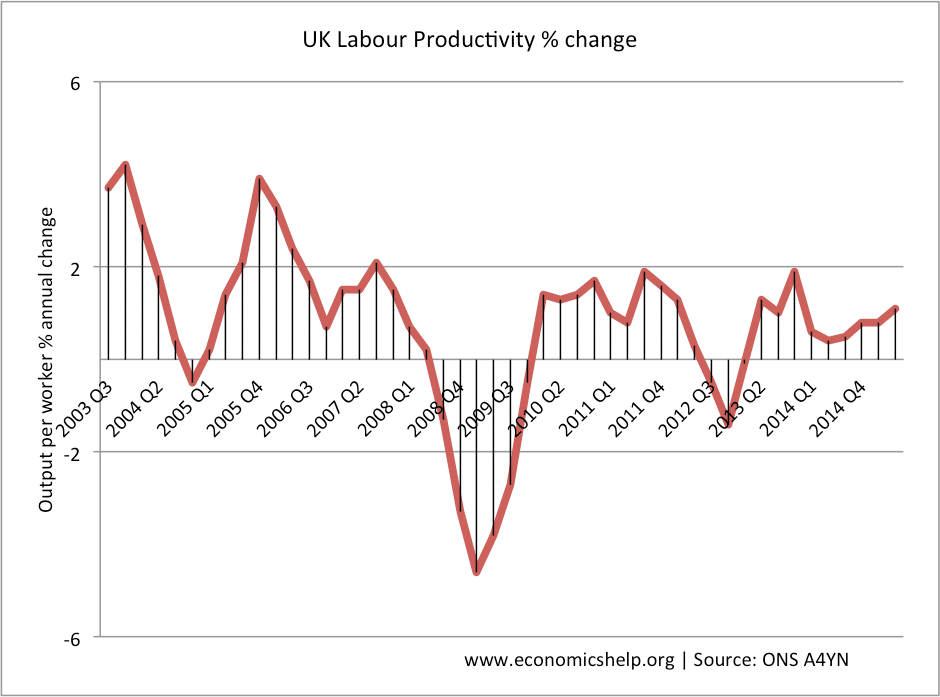 Since 2008, we have seen below trend labour productivity, limiting scope for long term economic growth. It is also a reflection of firms decisions to keep on low paid workers.
Real wage growth
One piece of good news in the past 12 months has been the reversal in real wage growth. From 2008-14, the UK economy saw negative real wage growth – inflation was higher than wage increases. This led to a decline in disposable income. However, since late 2014, this trend has been reversed with wage growth higher than inflation. However, there is still a long way to go.
The Institute for Fiscal Studies (IFS) looked at data up to the financial year 2013-14 and found that compared with the onset of the recession, pensioner average incomes were up 7%. For others, they remained 2.7% lower.
Saving ratio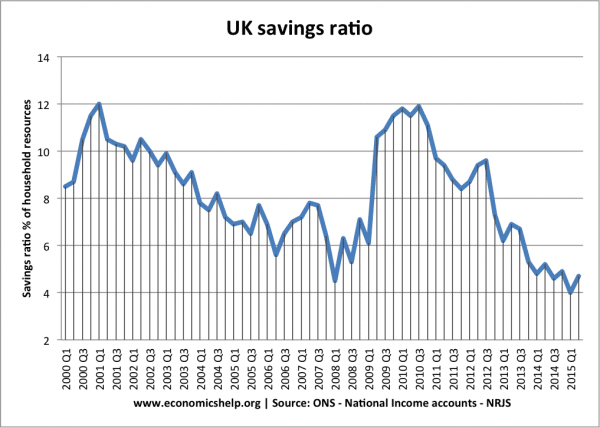 A consequence of falling real wages was consumers running down savings and increasing debt levels to maintain needed expenditure. A savings ratio of 5% at this stage of the economic cycle is not a good sign. It will need a prolonged period of rising real wages to give consumers more opportunity to save.
Growth per head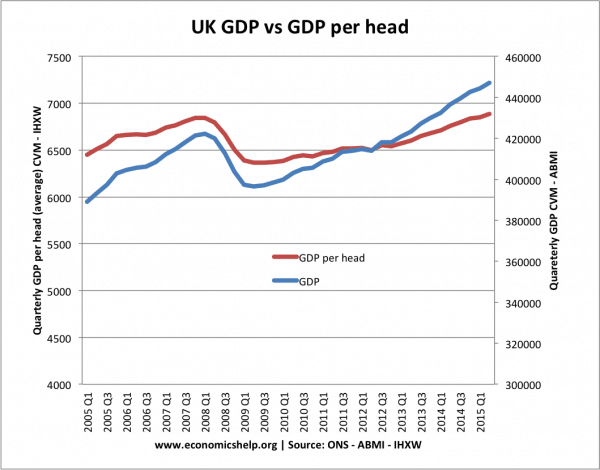 Headline figures on economic growth give a better indication than GDP per head.
Related