Monopsony occurs when there is one buyer and many sellers.
In the labour market, a monopsony occurs with one employer and many workers wanting to gain employment.
Arguably, monopsony power enables firms to 'exploit' workers by setting lower wages and employing fewer workers than in a competitive market.
To visualise monopsony power, we could think of a coal mining town in the nineteenth century. In these towns, the principal source of employment was a coal mine owner (or cotton mill owner). If workers couldn't get employment in the coal mine, or cotton mill there were few other alternatives. Hence we can understand why workers in the Victorian era were often facing low wages and dreadful conditions.
In this case of monopsony power, the coal mine owner has the ability to be a wage setter. A monopsony can pay wages lower than in a competitive market.
Diagram of Monopsony Exploitation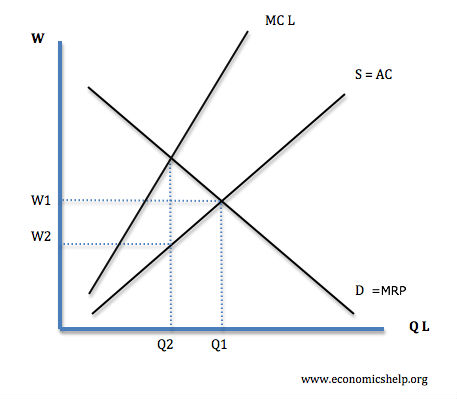 The marginal cost of employing extra workers increases at a faster rate than the average cost. Because if you increase the wage rate to attract more workers, you have to pay everyone a higher wage.
A monopsony maximises profits by employing a quantity of workers where MR = MC (Q2). This means they only have to pay a wage of W2. This is lower than wage in a competitive market (W1), there are also fewer workers employed.