Readers Question: Who Lends the Government Money

The UK public sector debt at the start of 2015 was close to £1,000 bn. See: UK National Debt
On this debt the government have to pay interest payments, which are around £43 billion a year. (interest payments on UK debt)
To finance the National debt, bonds are sold through the Debt Management Office (DMO) on behalf of the government to the private sector. Most of this government debt is bought by financial institutions such as:
Pension funds
Building societies.
Investment trusts
Private individuals
Therefore, the interest payment is paid to those who buy the government bonds and gilts.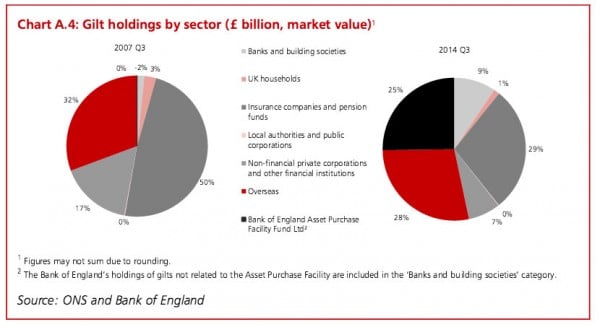 Since 2008, The Bank of England has purchased 25% of government gilt holdings. This means a significant proportion of UK debt is being financed by Bank of England.
Trends on holdings of UK Gilts
The Bank of England has not taken nearly 30% of gilt holdings.
Holdings of Gilts by Sector
(How to find) Selecting 'United Kingdom Economic Accounts, Q2 2012 (Pdf 845Kb)' , see page 182, Table X16, (government securities F.33211), explains NBMX NBTF NBZN NCMD NCYT NERD NEXL NGCZ from. PSF Finance stats at HM Treasury
Foreign Holdings of UK Debt
The percent of UK government bonds bought by foreign financial institutions.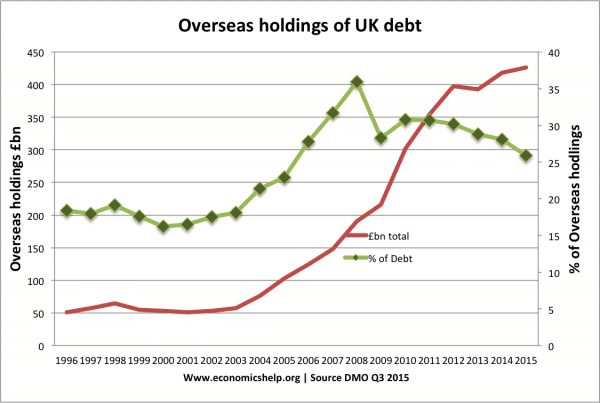 UK Debt held by oversees investors
Quantitative Easing and Government Debt
Since 2009, the Bank of England has used electronically created money to purchase government bonds. The initial wave of quantitative easing involved £200bn. Therefore, a significant part of the governments debt is held by the Bank of England. (21% at start of 2011)
Note: The purpose of quantitative easing is supposed to be – keep interest rates low, encourage bank lending. It isn't meant as a way of financing government debt. After economic recovery, the Bank of England will sell these government bonds back onto the market. Thus debt will be held by the private sector again.
Related