Recently, the Euro has fallen from 1.5 Dollars to 1 Euro in 2011 to near parity in March 2015.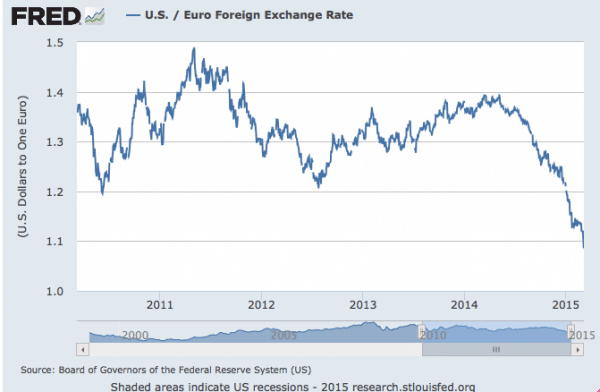 The fall in the value of the Euro has been very steep in the last six months.
This is a very significant depreciation in the Euro, and primarily reflects the greater economic weakness in the Eurozone. Related to the economic weakness, is the decision of the Eurozone to recently begin expansionary monetary policy (quantitative easing).
Why the Euro is falling
1. The ECB are embarking on Quantitative easing – the creation of money to purchase government bonds. Quantatitive easing tends to reduce the value of a currency because:
This increase in the money supply tends to reduce the value of the currency (greater supply tends to reduce price.)
Q.E raises expectations of higher inflation  – higher inflation tends to reduce the value of a currency because it will become less attractive to buy EU goods.
Also purchasing government bonds will reduce bond yields in Europe, making it less attractive for private investors to save money in the Eurozone – you get a lower return on Eurozone assets. Investors would rather save in US assets, where interest rates are more likely to rise and you will get a better rate of return.
2. General weakness of the Eurozone economy. Some analysts believe that EU's quantitative easing maybe a case of too little too late; they believe Q.E. in Europe may actually have a quite limited effect. This is due to two factors: Continue Reading →