Readers Question: What caused the massive decrease in the debt to GDP ratio for the UK following World War II?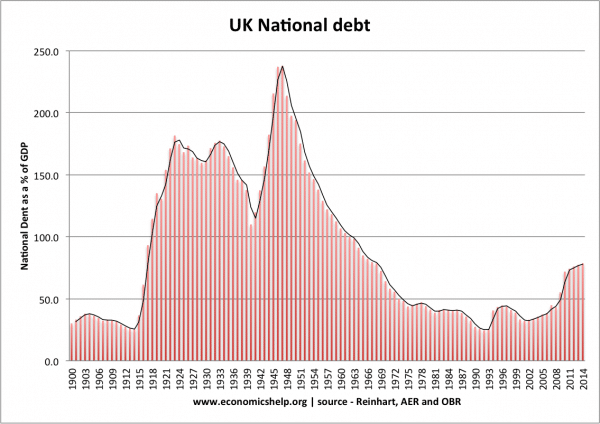 Summary
UK national debt peaked in the late 1940s at over 230% of GDP. From the early 1950s to early 1990s, we see a consistent decrease in the debt to GDP. Using the above measure of national debt, UK debt as a % of GDP reached a low of 25% in 1993. (1)  Since then UK public sector debt has increased to the present level of 77% of GDP.
The main reason UK debt to GDP fell in the post-war period was the sustained period of economic growth and near full employment until the late 1970s. This growth saw rising real incomes which in turn led to higher tax revenues and falling debt to GDP ratios.
Higher government spending
Firstly, debt to GDP was definitely not reduced through cutting government expenditure.
Note – Debt to GDP fell, despite higher real government spending on the newly formed welfare state and national health service. In fact government spending as a % of GDP rose from around 35% of GDP in the early 1950s to the high 40%s in the 1970s. See: UK government spending
Why did UK debt to GDP fall?
Firstly, it is a very good question to ask. In the past few years, many European policy makers have felt that rising debt levels needed panic levels of austerity / spending cuts. But, that didn't happen in the UK in the post war period.
The second thing is that total real debt increased in this period. But, GDP increased at a faster rate. Therefore, the debt to GDP ratio fell.
The third thing is a disclaimer – to fully answer the question, I would need to do more research on the period. Bear in mind, my answer may not be comprehensive. But, I will do the best I can.
Post war economic boom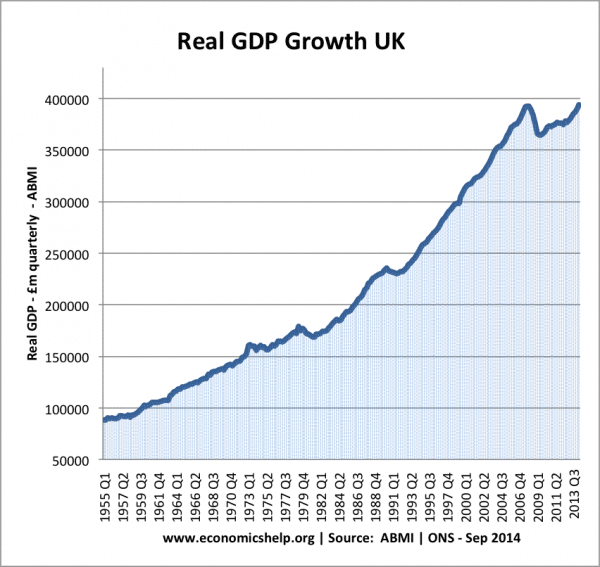 This graph shows UK real GDP.  In 1955 it was less than £100,000 m (quarterly). By  the early 1970s, real GDP had doubled in a relatively short period of time.
What caused economic growth?
The UK economy benefited from the period of rapid global economic growth, especially in Western Europe. In fact, in this period, UK growth lagged behind many of our Western European neighbours. But, overall the UK enjoyed a period of rapid growth in trade and economic growth. UK growth was so rapid, we experienced labour shortages – leading to the mass immigration of the 1950s and 60s to help feel labour market shortages.
Demand management and the absence of recessions
One of the cornerstones of William Beveridge's Welfare proposals was the assumption that a comprehensive welfare state required considerable efforts to achieve near full employment. The UK experienced boom and bust cycles, but the downturns were relatively minor and there were no real recessions of any significance until 1973. It would be interesting to know why there why there were so few recessions in the post war economic period. Demand management may have played a role.