An examination of UK house price affordability, and why despite the credit crunch, UK house prices are increasingly out of reach of a new generation of prospective home buyers.
The graph shows a significant rise in average incomes of those with mortgages.
In 1990, the proportion of people with mortgages on  income of over £50,000 was 2.5%. In 2011, the proportion of mortgages by people with income of over £50,000 was 40%.
In 2011, only 6.8% of people with mortgages had income of less than £20,000.  In 1990, 61% of people with mortgages had income less than £20,000
There is a similar drop in the % of mortgages held by people under 30 years of age.
Source: ONS House price index May 2012
Affordability of UK Housing
This data shows average house price to income ratios. It is based on the ONS mortgage survey.
After peaking at a ratio of over 5.0 in 2007, there has been a surprisingly limited drop in the ratio of average house price to average incomes.
The graph also shows that the average advance for buying a house has significantly increased. This is one factor in explaining why the average incomes of those with a mortgage has more than doubled in recent years.
Affordability of Mortgage Payments
One positive trend for homeowners is the reduction in mortgage interest payments as a result of ultra low base rates. The fall in base rates over 2008-09 has led to mortgage payments as a % of income falling.
Though there is a big regional gap, with Londoners paying a higher proportion of income than other regions, especially the north.
Recent House Price Trends
What Explains the Lack of Affordability?
1. Lack of Supply. After the credit crunch, house prices in many countries, such as the US and Spain fell dramatically. But, in the UK, the drop in house prices has been more muted.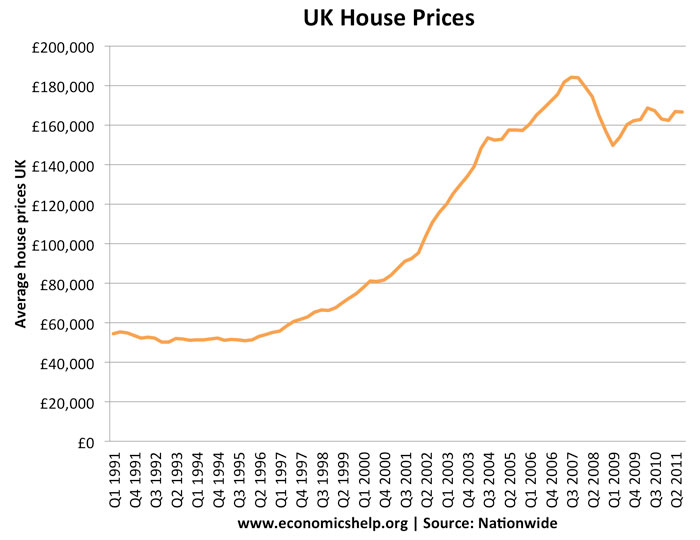 This is due to the comparative low supply. In the UK, the housing boom was primarily in demand, there was no boom in supply.

 2. Low Mortgage Payments. Low interest rates have meant many homeowners have been able to hold onto their houses. The mortgage repossession rate has remained much lower than in 1992 recession.Low cost of mortgages makes buying still attractive compared to renting, which is expensive.
3. Demand from Abroad. The London property market is marked by strong demand from abroad which has kept prices high, especially on the luxury end of the market. In London, 7 out of 10 homes over £5 million are going to foreign nationals (this is London)
4. Regional Differences
First time buyer ratios are much lower in the north. London ratios are almost twice as high.
5. Population Growth. The 2011 census showed the fastest rise in the population of England and Wales to 56 million. The growth in the number of households is even greater – increasing demand for housing.
Related