Readers Comment from UK debt under Labour. In 13 years from 1997/8 to 2009/10, the Labour Government increased debt by about £420 billion. In the 5 years from 2010/11 to 2014/2015, the Coalition Government will increase debt by about £600 billion. These are the facts.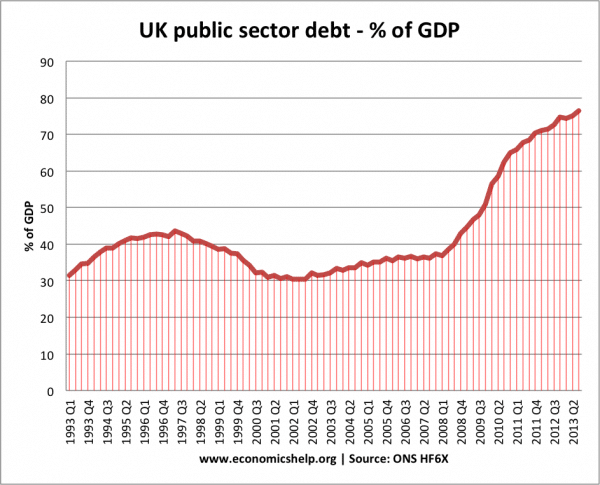 Yes, though I'm always nervous about extracting facts like this.
It is true that under the Coalition government of 2010 onwards public sector debt has increased significantly. Debt to GDP has increased at a rapid rate. But, that doesn't mean it is a reason to blame the coalition government for rising debt. Rising public sector debt was both inevitable and desirable given the poor global economic performance,  shrinking tax base and expansionary fiscal policy of the previous government.
I would argue, that 2010-2014 – it's a shame government borrowing didn't increase a little more. In a recession, with a fall in private sector spending, and rapid rise in private sector saving – you want to see an increase in government borrowing to help maintain overall demand, especially with Q.E, low inflation and low interest rates,.
Comparing debt levels from 1997 to 2010 and comparing debt levels during the great recession is a very difficult comparison. The economic situation is so different, that the required response needed is also very different.
However, the point about UK debt under Labour. was to make the point that (contrary to many people's opinion) UK government borrowing had fallen to a near record post-war low in the run up to the credit crunch. Excessive government borrowing was definitely not a cause of the crisis of 2008 onwards.
Economic growth
Another thing that can make me suspicious is when people point to very recent quarterly economic growth figures and claim that as vindication or otherwise of a particular economic policy.