The UK national debt is the total amount of money the British government owes to the private sector and other purchasers of UK gilts.
At the end of June 2014, public sector net debt (excluding financial interventions (PSND ex) was £1,304.6 billion, equivalent to 77.3% of gross domestic product.
Source: ONS [1. ONS public sector finances ] [This figure excludes temporary effects of financial interventions (PSND ex) (page updated Aug 12th 2014)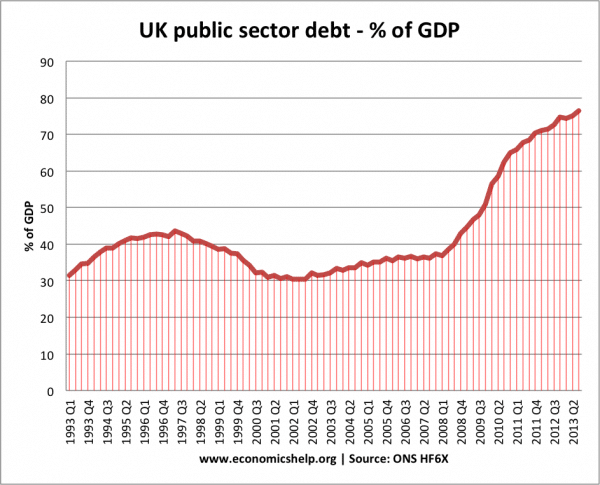 Annual Borrowing
For the financial year 2013/14, Public Sector Net Borrowing PSNB ex was £93.7 billion  – (5.6% of GDP)

The central government net cash requirement (CGNCR) for the financial year 2013/14 was £75.4 billion, £29.6 billion lower than the same period in 2012/13 (£105.0 billion). This figure is lower than PSNB ex because it includes one off receipts, e.g. Royal Mail transfer.
Office for Budget Responsibility

As well as ONS, the Office for Budget Responsibility is a good source for data.
Latest statistics at OBR