Current UK Inflation Rate
CPI inflation rate: 0.0% (headline rate)
(page updated 25 March, 2015)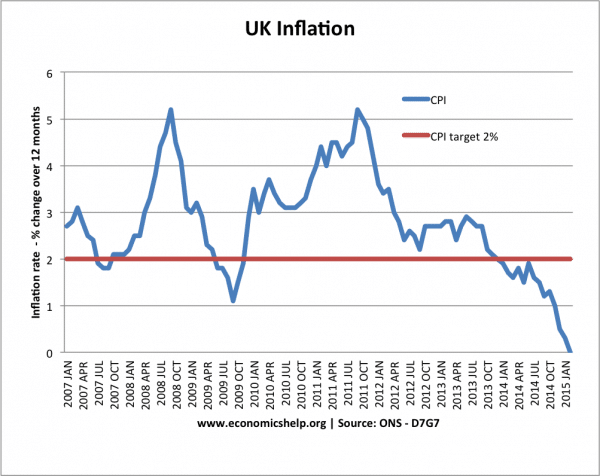 What is causing the fall in inflation?
Lower cost push inflation – falling oil prices
Other commodity prices also falling, such as metals, food.
Lower energy prices – gas and electricity
Low worldwide inflationary expectations. Europe is experiencing deflation and this is keeping inflation low.
Supermarket price wars, with big chains, such as Tesco and Sainsbury attempting to maintain market share from Pound Shops and discounters like Lidl
Wage growth still weak, despite early signs of some wage growth.
Note: RPI inflation is still 1.0%. Also, core inflation stripping out volatile items such as petrol, oil and energy prices is higher than the headline CPI rate.
Historic inflation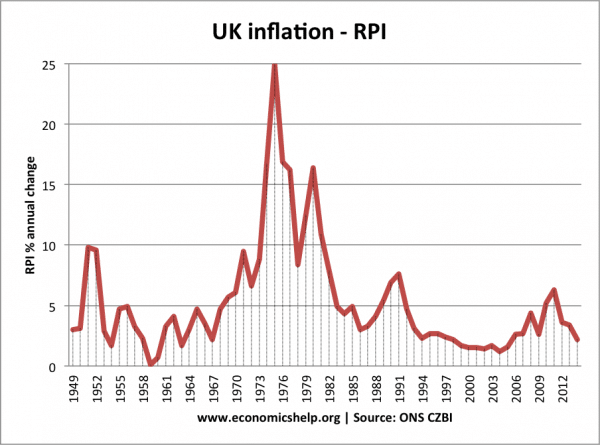 The current UK inflation rate compares favourable to much of the post-war period. The 1970s frequently saw double digit inflation. In 2014, the annual RPI was 2.2%.
See also: more historical graphs of inflation
Inflation since 1990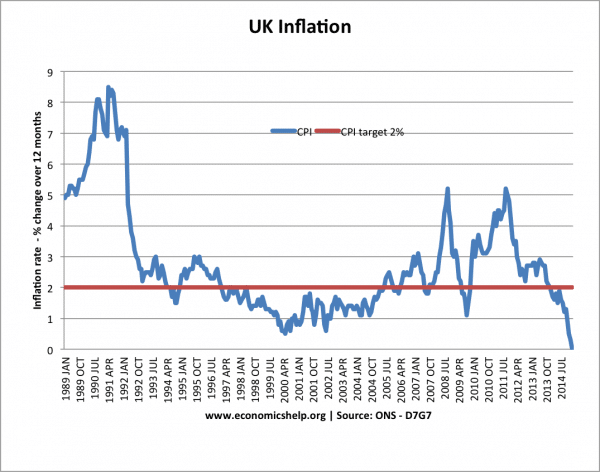 CPI and CPIH
CPIH – 0.3% in the year to Feb 2015
CPIH is a new experimental index from the ONS. It is based on CPI, plus it includes housing costs, such as mortgage interest payments. Owner occupiers cost (OOH) account for 12% of the CPIH weighting. Mortgage interest payments are the biggest part of OOH. Mortgage interest payments average 10% of household expenditure.